When i got my iPad3 i was impressed by the good and stable WLAN connection i have in every room of hour house. I was concerned about WLAN trouble because of poor WLAN results with our PC Notebooks (read below) before i got the iPad.
So i was happy but than i read about people complaining poor WLAN quality of their iPad. I decided to ran some tests using speedtest.net
Here are the results of my iPad3 WLAN speed test.
First i checked my 16.000kbits connection with may cable connected MacMini: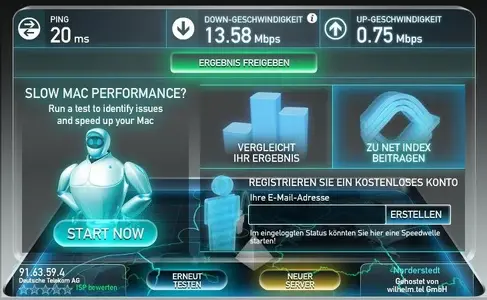 I got a Ping at 20, 13.58Mbits Downloadspeed and 0.75Mbits Uploadspeed
Next i run the first iPad3 test. About 3ft away from my Linksys WRTG 54Mbits Router: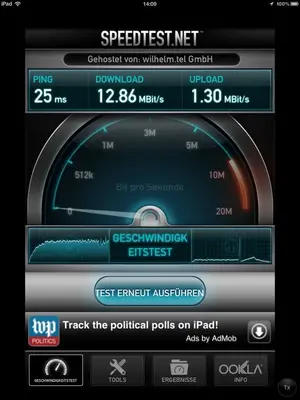 I got a Ping at 25, 12.86Mbits Downloadspeed and 1.30Mbits Uploadspeed
Next iPad3 test. One stairs down (wooden ceiling between iPad3 and router):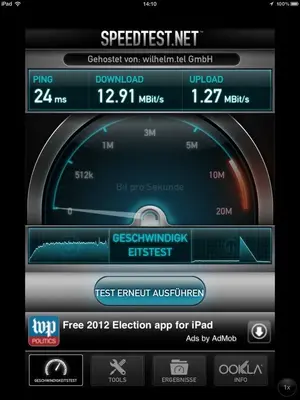 Ping at 24, 12.91Mbits Downloadspeed and 1.27MBits Uploadspeed
Last iPad3 test 2 stairs down (one wooden and one concrete ceiling between iPad and router):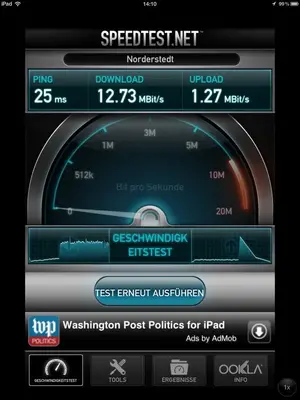 Ping at 25, 12.73MBits downloadspeed and 1.27MBits Uploadspeed.
I think that my iPad did very well in the WLAN tests.
If i compare the results with 2 Notebooks (Acer and Compaq) we have one stairs down they got only 2-3bars using WindowsXP and frequently loose WLAN connection from time to time (that's why they are cable connected in the meantime).
2 stairs down i had very low or no WLAN connection using the Notebooks!
The only thing i wonder is why my iPad has better uploadspeed than my cable connected MacMini?