Administrator
Staff member
Joined

Mar 25, 2010
Messages

5,888
Reaction score

711
Location
Wi-Reader DW09
This device is amazing as it offers so much for a reasonable price. If you have a need for viewing say movies on a flash drive on up to 3 devices or want to transfer files or photos from a sd card to a USB flash drive then check this out. I also understand if you have say have word documents or spreadsheets they also can be read by any iOS device running iOS 5 or later providing you have a word app installed on the iPad. Enjoy....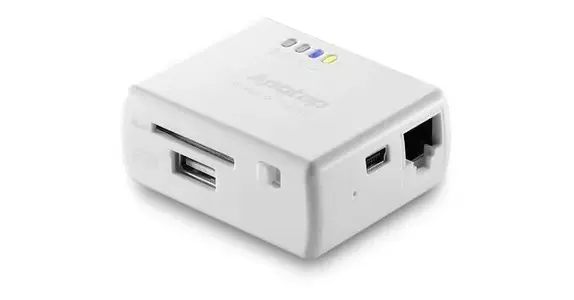 You can connect your USB Flash Drive to it and transfer or share files wirelessly to your Apple devices - iPad, iPhone and iPod Touch without iTunes. It allows up to five Apple device users to stream different file types - photos, videos, music and documents simultaneously.
When taking photos, we usually need to transfer image files via iTunes in order to view the photos from iPad and iPhone. With Wi-Reader DW09, you just need to insert a SD Card into it and you can see the high-resolution photos directly on your iPad or iPhone. You can also download your favorite photos into Camera Roll in your iPad or iPhone or transfer the photos and videos from Camera Roll to SD Card or USB Flash Drive. Besides, its iOS application program can classify files automatically.
In order to be user friendly, Wi-Reader DW09 also combines a wireless router function (Wireless AP). It can conveniently connect to the internet and share the connection around an average sized room at 150Mbps. A traveler need simply plug a hotel room's WAN cable into the port provided and instantly create a Wi-Fi hotspot in the room.
Wi-Reader DW09 itself is a miniature of Wi-Fi base, even though when the wireless internet is not available, the files still can be shared wirelessly among iPad and iPhone users. It has the ability to allow your devices to stay connected to internet and sharing your contents from remote storage at the same time. It provides WPA-PSK/WPA2-PSK encryptions, which can effectively and efficiently protect the wireless network.
Its built-in Li-polymer battery makes Wi-Reader DW09 enable to operate up to 3 hours when fully charged. Therefore you can share files without limitation of time and space.
The tiny size makes it ideal for home and travel use. Enjoy and share your favorite contents anytime, anywhere with your favorite people has never been easier.
An update
The DW09 supports up to three iOS devices at the same time allowing the simultaneous sharing and streaming of high-definition movies and other content. The device also allows the streaming of movies and other videos in file formats that iOS devices don't support natively. The DW09 supports flash drives
and self powered external hard drives up to 3 TB capacity.
It works with memory cards including SD, SDHC, and SDXC up to 128 GB in capacity using FAT32, NTFS, and exFAT formats. The device works in conjunction with a Wi-Reader app on the Apple device. The device is also designed to work as a travel size Wi-Fi hotspot supporting 802.11n wireless devices.
Suitable for use:
• iPad, iPad2, New iPad, iPhone 3GS, 4, 4S, 5, iPod Touch
Price world wide is under $80 US (Also available in Australia for any Aussie users)