Joined

May 1, 2012
Messages

18
Reaction score

0
I took a risk and updated my iPad 3 to ios6 on the day it came out (Sept. 19). When the update finally installed, the first thing I noticed was that there were no keyboard clicks. I powered the iPad off and back on, and the problem just disappeared. I could hear keyboard clicks and all other sound worked fine. I had no other problems with ios6 after that. But today, the sound thing randomly came back. Basically the things that don't work are:
- Keyboard Clicks
- Music/Video Volume
- Lock/Unlock Sounds
Other random system sounds don't work either, but ringer/text sounds do play when I adjust them in settings. Also, the beep Siri and dictation make when I use them works fine.
I know this isn't because of the side switch, because its set for auto-rotate. The whole thing gets weird when I try to fix it with the side buttons or multitasking menu at the bottom. When I open the menu and swipe to the left, the brightness slider works fine, but the volume one just isn't there. When I use the volume buttons on the side, the speaker icon shows up, but the volume level doesn't show. I'll post screenshots so you know what I mean.
There doesn't seem to be any problems with headphones in, all sound works normally then, and the multitasking slider/side buttons work fine.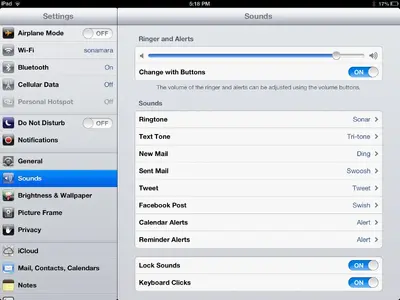 Sound Settings
Side Switch set to Rotation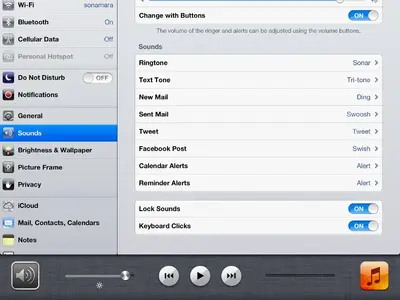 No volume slider in multitasking bar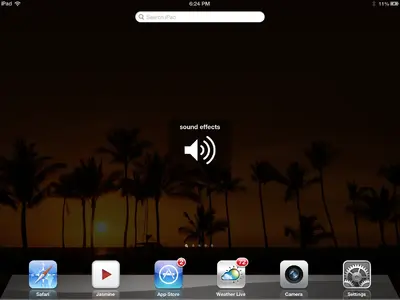 Doesn't show volume level when using buttons
Has anyone else had this problem, or know how to get sound working again? I'm pretty sure this is an ios6 problem, I never saw it before I updated.
Last edited: