Joined

Jan 8, 2011
Messages

22,052
Reaction score

9,086
Location
Another IFTTT recipe.
IFTTT released an iPhone app that works with the Photos, Reminders, and Contacts apps. I've used this to create a log of completed Reminder tasks in Evernote.
Here is the shared recipe, if you are interested.
https://ifttt.com/recipes/104021
It sometimes takes a while to update, but seems to work (eventually) even if tasks are checked off on the iPad. I'm not 100% certain on this, since I installed the app (iPhone version) on my iPad after it did not seem to be working. Later, the tasks I'd checked off on the iPad without the app installed showed up in Evernote.
Anyway, even though it's an iPhone app, it should work on the iPad, with the usual caveats. Here is a screen shot of how the log looks in Evernote.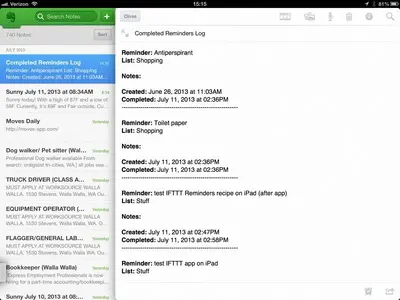 There is a Priority field available as well, but since I don't use Priorities in Reminders I didn't include it.
Addendum:
Using it on both the iPad and iPhone seems to create some duplication. For my purposes, being able to look back to see when I did something, that's not going to matter much. I'm sure I'll know that I didn't do the same task twice at exactly the same date and time. Still, I think I'll delete the IFTTT app off the iPad for now, and see how it goes.
I use my iPhone for Reminders far more often than the iPad; though it's nice to use Reminders on the iPad for reviewing or next to the computer.
Last edited: