Hi folks, just want to be make sure you know, my new case was designed for the iPad3 (New iPad).
I also made it to work great with the iPad2. But the "model" for it was my shiny new 64G white iPad3.
I went through the extra effort of adding a custom-designed air cooling chamber for the CPU and Graphics, so our iPads continue receiving air flow as they were designed to do. This is a feature I will be adding to my cases for all high performance tablets in the future. I feel it it is important to design not only for drop protection, but also for maximizing all the benefits our tablets can provide, and protecting all the components. This cooling chamber also protects the iPad2 of course.
Each time I design a case I try to provide "something extra" for the owner. Sometimes, it is an echo chamber for the speaker system, or a special protective design to guard a sensitive switch.
I hope you enjoy the design of my iPad3 case.
Link:
Bobj iPad Cases at Amazon
Kindest Regards,
Bobj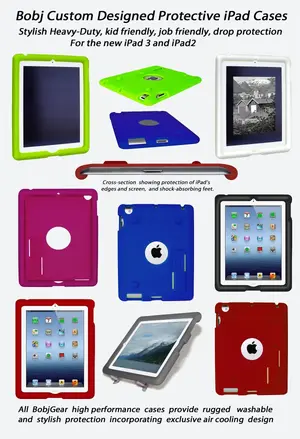 Last edited: