Joined

Oct 26, 2010
Messages

340
Reaction score

17
I thought a small discussion of my peregrinations through the stylus world might be beneficial to folks looking for a stylus specifically for handwriting apps. Here 'tis.
First of all: categorization. There seem to be six distinct types of styluses available. The first has a rubber semidome tip, the second some sort of "fuzzy tip", the third a conductive foam tip, the fourth some sort of conductive fabric tip, the fifth a hard plastic disc, and the sixth an electronic "smart pen" with a very small nib. (There might be others, but these are the ones I am currently aware of.)\
I began with the Targus, which has a rubber dome tip. It was certainly acceptable, and is the cheapest of the ones I have tried. It sometimes grabs the screen surface a bit too tightly, thus making it difficult to get a smooth writing motion, but isn't bad. Unfortunately, it is a bit too short for comfortable writing. Probably the best "bang for your buck." I then tried the Alupen, which uses the same rubber dome. It is more stylish, but is short and the rubber tip comes off.
The next one I tried was the Roger iWand. This one seems to have a lot of very vocal adherents on this forum, but they don't always sound very rational in their assessments. I found that it had very strong possibilities. It has a "fuzzy tip," being a hairy ball of some sort. It requires a very light touch, and---though the mfr lauds this as a positive---for me it is a negative because I found that I had to deviate from my natural writing style too much. If you press with any pressure at all, the tip has to be "restored" by rolling it over a velcro pad. In sum, I didn't find it very practical. It is quite long, so that is not a problem. But the barrel is too small for a comfortable grip.
It then tried making my own conductive foam tipped stylus using some of the recipes one finds on the web and this forum. It worked very well for a while, but began to become very insensitive---probably due to compression of the conductive foam. (There are commercial versions available, but I don't have their names on the tip of my virtual tongue.)
Next, I ordered an "artist's pack" of four styluses from iFaraday. Here is a shot of a typical one: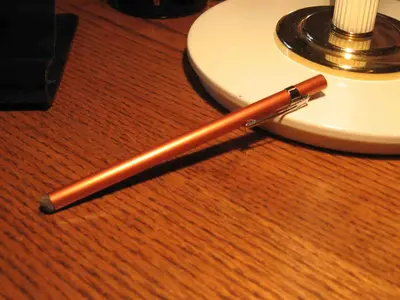 It worked very nicely, but I found that the metal barrel clicked when I made strokes on the screen. It is well constructed, is of a nice length, but the barrel is too smooth and too small in diameter for me to feel comfortable writing with it.
I contacted Rustle, the mfr, and he kindly agreed to modify the stylus for me. Here is what he came up with: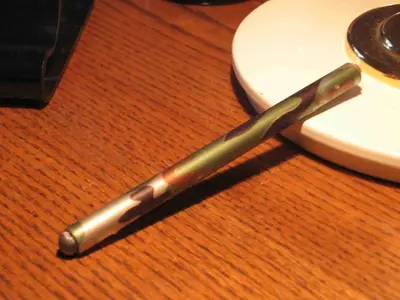 Can't say that I like the "camo" look, but it is very comfortable. He wrapped the barrel with some sort of poly or some other soft material which increased the barrel diameter. This was a tremendous improvement, but still fell a bit short of being "on target." The barrel still clicked against the screen, though clearly it would do not damage with its soft exterior. However, it still didn't feel quite right. And it didn't have a clip, which the others did have.
By the way, that seems to be a (small) shortcoming of the iFaraday. The clips aren't very reliable, as mentioned by others on this forum.
I then tried the Adonit Jot, subscribing to their "Kickstarter" funding venture. It has a small plastic disc on the tip with a small nib in the center. This allows a very high accuracy. Unfortunately, there are a couple of problems. It has a tendency to skip some portions of a stroke. I think it is particularly bad at the beginning of a stroke and seems to be caused by the fact that the disc is positioned as it was at the end of the last stroke. Thus, when you lift it for the next stroke, it is at the wrong angle. When you plunk it down, it has to flop around to make contact at the correct angle for the current stroke. Alas! It is a great idea, but doesn't really deliver in the long run, day-in-day-out.
I then wagered a few bucks on the Dagi. I had alread used one of the original Dagi's, which had a fixed plastic disc with a small red dot for positioning accuracy, but I had to hold it at an awkward angle. Furthermore, it was much too short. But then they came out with a version having a swiveling plastic disc on the nib, and it has a spring that I thought might reposition the disc between strokes. Unfortunately, No! In fact, it works much less smoothly than the Jot. I was unable, for instance, to make horizontal strokes without having a "squiggle" at the beginning. In fact, this contaminated most strokes, even those that were not vertical. Sigh. It didn't meet my requirements.
Several other folks on this forum recommended the iFaraday Rx, which was apparently constructed for doctors to use in their demanding writing tasks, so I tried one. Here is a shot of it: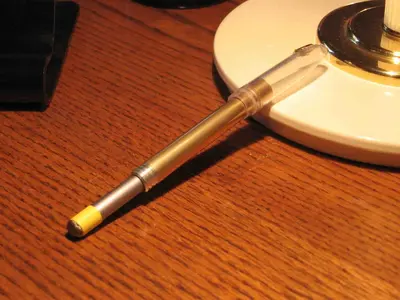 It has a nice screw on cap, and---though not long---is sufficiently long for me. However, it has a very severe problem. It has a small barrel near the tip and a concentric barrel of larger radius applied on the upper part. The transition between the two diameters is unfortunately just where I like to grasp it with my fingers. No soap for me! The picture, by the way, shows a broken clip. This is not the fault of the iFaraday in this case, but is due to my two year old grandson subjecting it to a stress test. Here, by the way, is the way I hold my stylus when I write: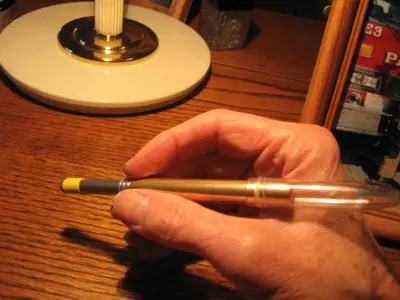 Notice where my thumb and pointer finger are located relative to the barrel thickness transition.
In looking over the iFaraday web site, I noticed that Rustle is now producing what he calls the SALT (for shallow angle, light touch) version. Since this seems to be agreeable to my writing style, I decided to give it a try. I found that it is the very best I have used to date. I can write at my preferred angle, even though he calls it "light touch"---and indeed it doesn't require a lot of pressure---it does not HAVE to be used lightly, and is plenty long enough. Here is a shot: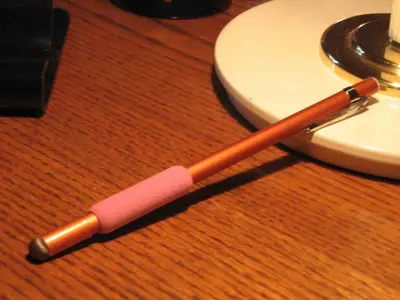 I still found that the metal barrel was too small---and too slick---for comfort, so I swiped a pen grip from my wife and added it. Please forgive the horrible color clash, but it makes for a close to perfect pen---if you forget about the nice accuracy achieved by the Jot. As others, notably jsh1120, have pointed out, you gotta' practice to get proficient with the larger tipped pens currently available.
Apparently I have run out of image storage for this post, so I will post a couple more in a moment.
Last edited: