Apple iPad Forum
​
The big shopping event is about to kickstart in a few hours, and Best Buy has some sweet deals you need to check out. If you're in the market for an iPad mini 2 or an iPad mini 3, you should know that the big retailer has some sweet deals.
Best Buy offers $75 off all iPad mini 3 with Touch ID models, which means the latest-generation tablet can be purchased for a starting price of just $324.99. Here are all the list with all the iPad savings.
iPad mini 3
16GB Wi-Fi iPad mini 3 for $324.99
64GB Wi-Fi iPad mini 3 for $424.99
128GB Wi-Fi iPad mini 3 for $524.99
16GB LTE iPad mini 3 for $454.99
64GB LTE iPad mini 3 for $554.99
128GB LTE iPad mini 3 for $654.99
iPad mini 2
16GB Wi-Fi iPad mini 2 for $224.99 - $75 savings
32GB Wi-Fi iPad mini 2 for $274.99 - $75 savings
64GB Wi-Fi iPad mini 2 for $320.99 - $79 savings
128GB Wi-Fi iPad mini 2 for $419.99 - $80 savings
LTE-capable iPad mini 2
16GB AT&T cellular iPad mini 2 for $329.99 - $100 savings
16GB Verizon cellular iPad mini to for $329.99 - $100 savings
16GB Sprint cellular iPad mini 2 for $329.99 - $100 savings
32GB AT&T cellular iPad mini 2 for $379.99 - $100 savings
32GB Verizon cellular iPad mini 2 for $379.99 - $100 savings
32GB Sprint cellular iPad mini 2 for $379.99 - $100 savings
32GB T-Mobile iPad mini 2 for $597.99 - $32 savings
64GB AT&T cellular iPad mini 2 for $502.99 - $27 savings
64GB Verizon cellular iPad mini 2 for $476.99 - $53 savings
64GB Sprint cellular iPad mini 2 for $629.99 - $100 savings
64GB T-Mobile cellular iPad mini 2 for $529.99 - $200 savings
128GB AT&T cellular iPad mini 2 for $629.99 - $200 savings
128GB Verizon cellular iPad mini 2 for $579.99 - $32 savings
128GB T-Mobile cellular iPad mini 2 for $629.99 - $200 savings
128GB Sprint cellular iPad mini 2 for $729.99 - $100 savings
Source:...
​
Apple's most recent iOS 8 software has been said to roll out to Apple users much slower than last year's iOS 7. But new data shows that iOS 8 is now installed on around 60% of iOS devices.
The data is collected from App Store visits on November 24 and is up from the 55% of devices iOS 8 was on when Apple last checked in early this month.
While iOS 8 may lag to iOS 7's numbers from last year, it's still much better than the Android rivals. Back in October, around 54% of Android users were running Android Jelly Bean, which was first released in 2012 and only 25% were running the latest Android KitKat release.
A recent version of iOS 8.1 has been plagued with a good number of bugs and glitches, so that must have kept away many iPhone and iPad owners. But Apple has patched pretty much all the major faults, so this could predict an even bigger increase for iOS 8.
What about you - what are you running on your iPhone or iPad?
Source:
Apple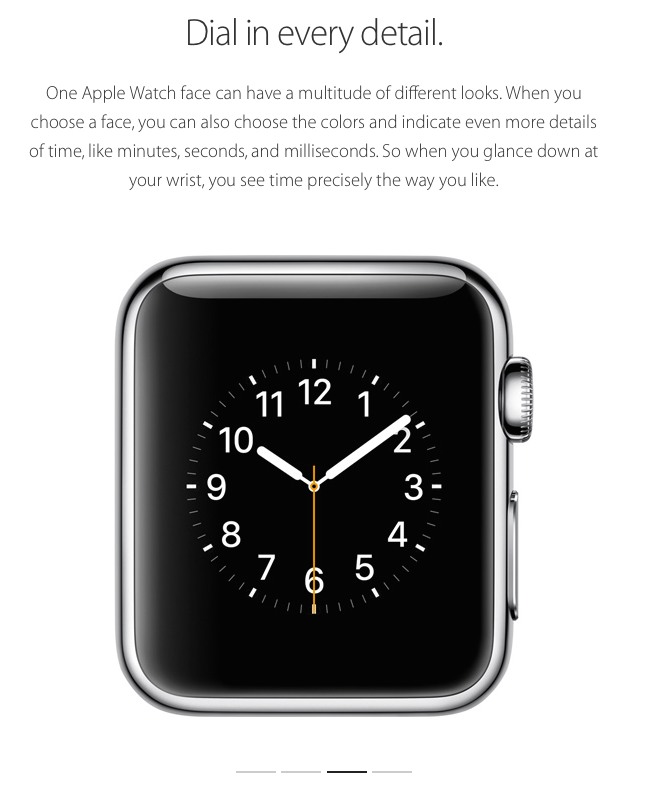 ​
Apple is set to launch its first wearable device, the Apple Watch, in early 2015. However, while we do know a few things about the upcoming product, there are still many questions left unanswered. Apple has now updated the marketing website for the Apple Watch with additional details about its functions.
Apple's marketing team has expanded the descriptions of the watch's functions across the separate pages labeled "Timekeeping," "New Ways to Connect," and "Health & Fitness." The new Timekeeping page reveals more about some of the watch faces that are included with the Apple Watch:
The New Ways to Connect page talks about the Friends feature that makes it easy to send messages, make a call, or reach out to other Apple Watch users. Apple Watch wearers can send a tap, draw a picture, or share their heartbeat with other Apple Watch wearers, but they can also send and receive text messages, audio snippets, share a location, make phone calls and email right from the watch.
The new Health and Fitness page describes how theApple Watch measures movement, as well as additional details on the included Workout app.
​
CD Projekt Red's The Witcher franchise is going from strength to strength. Not only is the third instalment in the console and PC series due in February 2015, The Witcher 3: Wild Hunt, they have also today announced the arrival of a new board game, The Witcher Adventure Game, which also gets an iOS version, out today.
The game takes the player on a journey around the world of The Witcher, taking on the role of four fan-favourite characters from the books and computer games: Geralt of Rivia, monster slayer; Dandelion, roguish bard; Triss Merigold, cunning sorceress; and Yarpen Zigrin, dwarven warrior.
Gameplay sees players getting to hunt monsters, earn gold on perilous missions, and meet and interact with lots of different characters.
Click here to download the game for $5.99:
https://itunes.apple.com/us/app/the-witcher-ag/id735549884?mt=8
Source: CD Projekt Red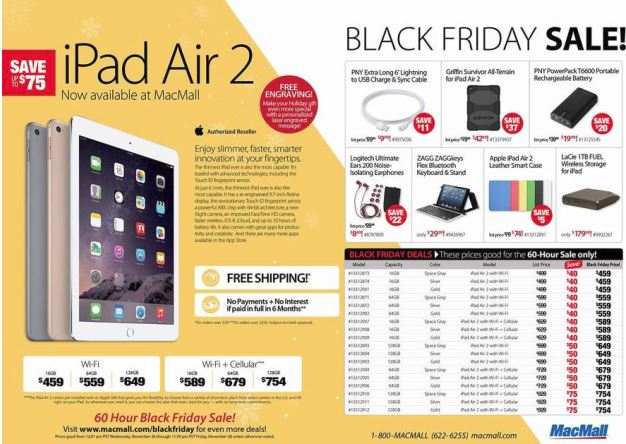 ​
BGR writes today that online Apple retailer McMall is offering some tasty discounts on all sorts of Apple products this Black Friday, November 28.
The sale actually starts today, Wednesday November 26, at 12.01 p.m. PST, with the company's Black Friday advert revealing some great deals on a wide range of Apple products, including iPads, Macs, accessories, and so on.
As far as iPad deals are concerned, you can save up to $75 on an iPad Air 2, complete with free shipping.
For example, you can get a 16GB Wi-Fi-only iPad Air 2 for $459, making a saving of $40. You can also get an iPad Air 2 with Wi-Fi and cellular for $589, also making a saving of $40.
The biggest saving of all comes with the 128GB iPad Air with Wi-Fi and cellular, which costs $754 instead of $829, making a saving of $75.
Be sure to check it out, as there are lots of accessories on offer too, including a Griffin Survivor All-Terrain cover for iPad Air 2 for $42 instead of $79.
Source:
BGR
​
Google is synonymous with 'online search' for billions of people, but there are big chances that its hegemony will slowly be put under pressure. A few days back, we've see Mozilla replace Google with Yahoo as the default search engine and now it seems that Apple itself could do the same thing.
A fresh report coming from TheInformation publication says that Google risks losing its spot as the default search provider in Apple's Safari browser next year. Here's what Amir Efrati has been saying:
Google Search has been in the hands of iPhone and iPad owners since 2007, but this deal is now set to expire in 2015. Microsoft and Yahoo have each pitched Apple SVP Eddy Cue on the idea of replacing Google as the default iOS search provider.
Microsoft's Bing is already the search provider used by Siri and OS X Yosemite and its Spotlight search deliver Bing results. These could be signs that Apple is looking to replace Google or just that it wants its customers to have a diversity of choices.
Obviously, the company that manages to replace Google will be making a fortune, since it will offer its service to millions of iPhone and iPad users.
Source:
TheInformation
​
Dropbox is one of the most popular cloud storage services and it is always interested in bringing new services to its customers. The company has recently announced that it will be adding the ability to edit Microsoft Office documents to its free iOS client. And now it seems that the update has been released.
By using the free Dropbox app for iOS (follow the link at the end), iPhone and iPad users can edit Word, Excel and PowerPoint documents directly on the cloud. Here's how the official announcement sounds like:
"The new Dropbox and Microsoft Office integrations are here! Now it's easy to work on the Office files you've stored in Dropbox even when you're on the go — you can edit them from the Dropbox app, and access them directly from the Office apps. The new features are available today for Android phone and iOS users."
Microsoft CEO Satya Nadella recently said that Dropbox integration in mobile Office apps and the new Office support in Dropbox provides "our shared customers with flexible tools that put them at the center for the way they live and work today."
The update to the iOS app will be slowly rolling out in the coming weeks, so if you don't see it today, this means you have to wait for a few more days. This is a great feature not only for Dropbox owners but for those who have to deal with a lot of Office files.
Source:
iTunes
​
Apple is doing terrific these days, breaking a
new record
in its market capitalization. But while everything seems to be great, there's a big problem that the company is facing - declining iPad sales. Of course, this isn't just Apple's problem, as the entire tablet market is seeing a gradual decrease in shipments.
Apple is said to ship 64.9 million iPad tablets in 2014, which represents a decline of 12.7% on the total number of shipments a year ago. The overall tablet market will see shipments of 235.7 million units, which repreesnts a growth of 7.2% over 2013.
A growth of 7.2% over 2013 is not that big as you could think. Between 2012 and 2013, tablet shipments grew by 52.5%, so we can see that's quite a steep drop in growth. But this is also a sign that the industry has reached its maturity and will see minor increase in the future from now on.
Ryan Reith, Program Director with IDC's Worldwide Quarterly Mobile Device Trackers., said the following:
"The tablet market continues to be impacted by a few major trends happening in relevant markets. In the early stages of the tablet market, device lifecycles were expected to resemble those of smartphones, with replacement occurring every 2-3 years. What has played out instead is that many tablet owners are holding onto their devices for more than 3 years and in some instances more than 4 years. We believe the two major drivers for longer than expected tablet lifecycles are legacy software support for older products, especially within iOS, and the increased use of smartphones for a variety of computing tasks."
Jean Philippe Bouchard, Research Director for Tablets, also shared his input:
"We need to look at how the tablet ecosystem is answering these challenges, and right now we see a lot of pressure on tablet prices and an influx of entry-level products, which...
Search tags for this page
apple forum
,
apple ipad forum
,
ipad forum
,
ipad forums
,
ipadforum