Apple iPad Forum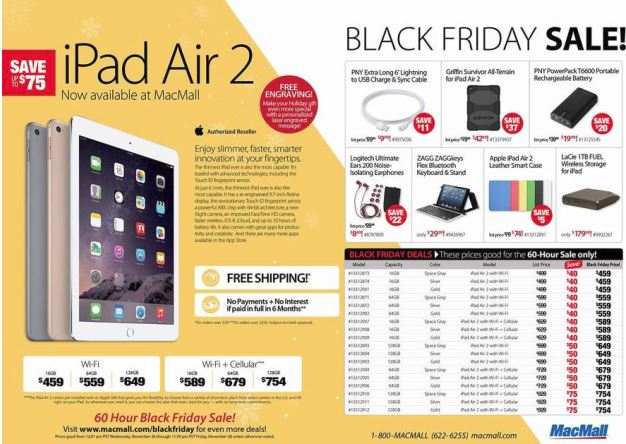 ​
BGR writes today that online Apple retailer McMall is offering some tasty discounts on all sorts of Apple products this Black Friday, November 28.
The sale actually starts today, Wednesday November 26, at 12.01 p.m. PST, with the company's Black Friday advert revealing some great deals on a wide range of Apple products, including iPads, Macs, accessories, and so on.
As far as iPad deals are concerned, you can save up to $75 on an iPad Air 2, complete with free shipping.
For example, you can get a 16GB Wi-Fi-only iPad Air 2 for $459, making a saving of $40. You can also get an iPad Air 2 with Wi-Fi and cellular for $589, also making a saving of $40.
The biggest saving of all comes with the 128GB iPad Air with Wi-Fi and cellular, which costs $754 instead of $829, making a saving of $75.
Be sure to check it out, as there are lots of accessories on offer too, including a Griffin Survivor All-Terrain cover for iPad Air 2 for $42 instead of $79.
Source:
BGR
​
Google is synonymous with 'online search' for billions of people, but there are big chances that its hegemony will slowly be put under pressure. A few days back, we've see Mozilla replace Google with Yahoo as the default search engine and now it seems that Apple itself could do the same thing.
A fresh report coming from TheInformation publication says that Google risks losing its spot as the default search provider in Apple's Safari browser next year. Here's what Amir Efrati has been saying:
Google Search has been in the hands of iPhone and iPad owners since 2007, but this deal is now set to expire in 2015. Microsoft and Yahoo have each pitched Apple SVP Eddy Cue on the idea of replacing Google as the default iOS search provider.
Microsoft's Bing is already the search provider used by Siri and OS X Yosemite and its Spotlight search deliver Bing results. These could be signs that Apple is looking to replace Google or just that it wants its customers to have a diversity of choices.
Obviously, the company that manages to replace Google will be making a fortune, since it will offer its service to millions of iPhone and iPad users.
Source:
TheInformation
​
Dropbox is one of the most popular cloud storage services and it is always interested in bringing new services to its customers. The company has recently announced that it will be adding the ability to edit Microsoft Office documents to its free iOS client. And now it seems that the update has been released.
By using the free Dropbox app for iOS (follow the link at the end), iPhone and iPad users can edit Word, Excel and PowerPoint documents directly on the cloud. Here's how the official announcement sounds like:
"The new Dropbox and Microsoft Office integrations are here! Now it's easy to work on the Office files you've stored in Dropbox even when you're on the go — you can edit them from the Dropbox app, and access them directly from the Office apps. The new features are available today for Android phone and iOS users."
Microsoft CEO Satya Nadella recently said that Dropbox integration in mobile Office apps and the new Office support in Dropbox provides "our shared customers with flexible tools that put them at the center for the way they live and work today."
The update to the iOS app will be slowly rolling out in the coming weeks, so if you don't see it today, this means you have to wait for a few more days. This is a great feature not only for Dropbox owners but for those who have to deal with a lot of Office files.
Source:
iTunes
​
Apple is doing terrific these days, breaking a
new record
in its market capitalization. But while everything seems to be great, there's a big problem that the company is facing - declining iPad sales. Of course, this isn't just Apple's problem, as the entire tablet market is seeing a gradual decrease in shipments.
Apple is said to ship 64.9 million iPad tablets in 2014, which represents a decline of 12.7% on the total number of shipments a year ago. The overall tablet market will see shipments of 235.7 million units, which repreesnts a growth of 7.2% over 2013.
A growth of 7.2% over 2013 is not that big as you could think. Between 2012 and 2013, tablet shipments grew by 52.5%, so we can see that's quite a steep drop in growth. But this is also a sign that the industry has reached its maturity and will see minor increase in the future from now on.
Ryan Reith, Program Director with IDC's Worldwide Quarterly Mobile Device Trackers., said the following:
"The tablet market continues to be impacted by a few major trends happening in relevant markets. In the early stages of the tablet market, device lifecycles were expected to resemble those of smartphones, with replacement occurring every 2-3 years. What has played out instead is that many tablet owners are holding onto their devices for more than 3 years and in some instances more than 4 years. We believe the two major drivers for longer than expected tablet lifecycles are legacy software support for older products, especially within iOS, and the increased use of smartphones for a variety of computing tasks."
Jean Philippe Bouchard, Research Director for Tablets, also shared his input:
"We need to look at how the tablet ecosystem is answering these challenges, and right now we see a lot of pressure on tablet prices and an influx of entry-level products, which...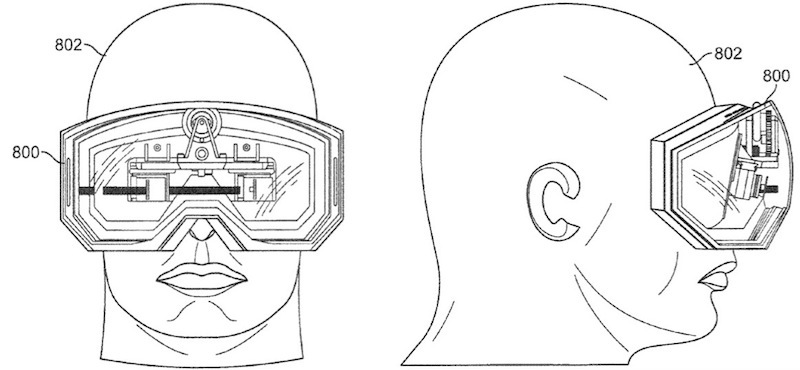 ​
For the past months, we've seen a great deal of rumors and leaks that showed Apple's clear interest in developing a virtual reality device. Now a new report from the 9to5Mac publication speaks of a new job listing that Apple posted, seeking app engineers experienced with 3D graphics, virtual reality, and augmented reality.
It seems that Apple is looking for app developers to build user interfaces and "high performance apps that integrate with Virtual Reality systems for prototyping and user testing." While the job listing doesn't provide too many details, it makes it obvious that Apple is interested in developing virtual reality and/or augmented reality experiences. Here's how an excerpt from the job posting sounds like:
"We are looking for a software engineer to develop UI and applications to create next generation software experiences. The individual must be able to participate in collaborative and iterative UI design through the implementation phases & complete performant user experience code for product delivery. This engineer will create high performance apps that integrate with Virtual Reality systems for prototyping and user testing."
By "Virtual Reality systems," Apple could refer to a full-on hardware experience or perhaps an augmented reality app experience. What's for sure is that augmented reality and virtual reality have become increasingly important areas for development, especially fueled by such headsets like the Oculus Rift and Google's "Project Tango" and Google Glass.
It seems that Apple is in possession of a technology similar to what's used in Google's Project Tango, as the company acquired in 2013 the 3-D mapping company PrimeSense.
Source:
9to5Mac
​
It seems that not only consumers love Apple's new products, but investors, as well. Apple has made some big changes this year to how it handles its finances and stock. The biggest change was the 7-for-1 stock split, which means, in plain English, that more regular investors have been invited to buy Apple's stock as 1 the price of 1 share has been "cheapened" by 7 times.
And it seems that Apple is now reaping the benefits. The Apple stock has crossed the $700 billion market capitalization as the price per share reached more than $119.65. At a pre-split price, this translates into $837.13.
The last time when the stock peaked was back in late 2012, when it topped out in the mid $650's. So, what we're witness right now is $50 billion increase from two weeks ago. Here are some more details:
Apple's share price has increased by 50% since January 2014, and its market cap rose by almost the same multiple. At the moment, Apple is alsop the most valuable company, surpassing second-place Exxon Mobile which has a market cap of $400 billion.
Source: Apple
​
Lately, there's been a lot of talk with regards to the upcoming Steve Jobs movie. The rights for the film, which is based on Walter Isaacson's much-respect biography of Jobs, have belonged to Sony Pictures for the last two years. But now, according to a fresh report from the HollywoodReport publication, Universal Studios has bought the rights for around $30 million.
The publication says that Danny Boyle will direct the script written by Aaron Sorkin. Michael Fassbender is said to star in the film, and previous rumors suggested that it would be the main role. The movie is being produced by Scott Rudin, Mark Gordon and Guymon Casady.
Christan Bale and Leonardo DiCaprio are among the actors who have been rumored to play the role of the late Apple CEO. Seth Rogen and Jessica Chastain are reportedly likely to join the cast, with the former playing Apple co-founder Steve Wozniak and the latter taking on the role of Steve Jobs' daughter.
Source:
HR
​
Some of the busiest holiday shopping days are nearly upon us. Black Friday kicks off at the end of this week (although several retailers are starting early). Of course, Apple has their own Black Friday offers to bring extra holiday value to their customers.
Apple's Black Friday offer for 2014 is a series of gift cards for iTunes, the Mac App Store, the App Store, and the iBooks store. Sadly, you can't use the gift cards for your Apple Store purchases, but there are still some solid deals in this list. It's pretty simple. You just purchase one of the items on the list below (for its regular retail price wherever you purchase it), and you will get an Apple gift card with the value shown next to the item in the list.
Any iPhone (6, 6 Plus, 5S, 5C; excluding purchases through Apple's online store for $0 down): $50
Any iPad (Air, Air 2, Mini, Mini 2, Mini 3): $50
Any Mac (except the Mac Pro): $100
iPod Touch or iPod Nano: $25
Apple TV: $25
Beats headphones and speakers: $25
Most of the products are limited to two gift cards per household, so be sure to check out all of the details at the source link below. As an extra bonus this holiday season, Apple teamed up with Product (Red) which is an organization that fights against AIDS, tuberculosis, and malaria. Apple plans to make an undisclosed donation to the organization for each qualified purchase.
Source:
Apple Shopping Day Promo
Search tags for this page
apple forum
,
apple ipad forum
,
ipad forum
,
ipad forums
,
ipadforum