Apple iPad Forum
​
This year, retailers have spilled the beans on their Black Friday sales a few good weeks before the big shopping day itself. This way, they want to make sure that customers know what they will be getting.
Joining Walmart and others, Best Buy has now announced its pre-Black Friday sales, and they seem to be pretty appealing. Among Best Buy's limited-time deals we find a first generation iPad Air and a fifth-gen iPod.
Both Apple products have been significantly discounted, and for the next three days, the retailers taking between $80 and $100 off all iPad Air models. Thus, the 16GB Wi-Fi-only iPad Air model is available at just $319. Even if it comes with 2013-date hardware, it's still a pretty good deal.
Best Buy has also taken $50 off the price of the 64GB 5th gen iPod Touch model, making it available for just $249. Also, the Beats Solo HD On-Ear headphones have been discounted $70 and now cost just $99.
Other appealing deals include iHome's AirPlay speaker system which is just $49.99 right now, normally $299.99, and the water-resistant Ultimate Ears Boom speaker is $20 off at $179.99.
These deals are good through Saturday, but the actual Black Friday promotions will begin on Thursday next week and will run through the weekend to Cyber Monday.
Source:
BestBuy
​
Back in April, this year, popular cloud storage service Dropbox has introduced the Carousel app for iPhone users. It allowed to upload and automatically organize into events photos and videos uploaded to Dropbox. Now the company feels that it's time to make the app available for iPad users, as well.
Carousel has been updated to version 1.7 with support for iPad users. Now, it's possible to view your photos and continue conversations on a bigger screen and there's now added support for posting to Instagram and WhatsApp, as well.
The iPad design is pretty much similar to the iPhone version, featuring a big grid of videos, supplemented by lightweight messaging features at the top and a scrolling timeline at the bottom. However, the app doesn't seem to impress iOS users too much, who don't view it to be much more different than what the Camera app can do.
Chris Lee, who leads product development for the projec, is confident in their project and says that this is just the beginning:
"For us Carousel is a long-term investment. There are a lot more exciting things that we're really looking forward to sharing with you in the future. We've got a lot of exciting plans for how to make Carousel even more engaging."
Here are the main features of the app:
​
America First Credit Union is the 7th largest credit union in the United States in terms of total membership and 11th largest credit union in assets in the U.S. According to the latest data, America First has 109 branch locations, more than 642,000 members, and has over USD 6.1 billion in assets. And now it is ready to join the growing list of banks and card issuers adding support for Apple Pay.
Rich Syme, executive vice president at America First Credit Union, said the following in a recent press release:
"Security and privacy is our upmost priority when it comes to offering our members the latest in technology and mobile advancements. Apple Pay will bring a new level of efficiency for members, allowing them to pay with their mobile devices in a fast, easy and secure way."
Brice Mindrum, mobile services manager for America First Credit Union, also weighed in:
"Offering Apple Pay to our membership is a testament to our dedication at America First to offering the most up-to-date technologies and something we're very excited to provide for our members."
This announcement follows shortly after the San Francisco Fire Credit Union announced Apple Pay support, as well. So, we can see that besides a few retailers, pretty much everybody is excited about the Apple Pay system.
Apple now lists a total of 18 card issuers but there's also a long list of banks that have already announced support.
Source: AFCU
​
Legendary Sex Pistols front man John Lydon (a.k.a. "Johnny Rotten") has told the U.K.'s Telegraph newspaper that iPad gaming is one of the few things that he and his wife really like to spend their money on.
It's not clear from the article just how Lydon managed to rack up such a huge iOS gaming bill, but presumably it's from in-app purchases, with the likes of Game of Thrones Ascent selling such pricey items as "625 Gold" for £69.99. Ouch!
Great to know that the seminal Punk legend is such an avid iOS gamer, but maybe best not to tell him that Telltale has a Game of Thrones episodic gaming series on the way!
Source:
MCVUK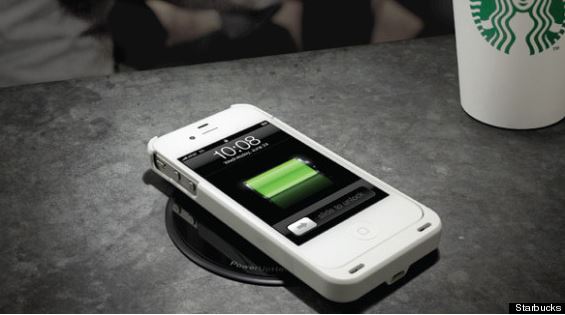 ​
Huff Post Tech reports that Starbucks is now providing wireless charging facilities at 200 locations in the San Francisco Bay Area, prior to rolling out the service throughout the U.S., and then later in Europe and Asia.
Duracell Powermat Spots for charging smartphones and tablets can be found on tables and counters in the applicable Starbucks stores, with Starbucks spokeswoman Linda Mills telling Huff Post Tech that each of the 200 stores will have approximately eight of the charging stations.
And even though Powermats are usually only compatible with AT&T phones, Powermat's Scott Eisenstein said that Starbucks will loan "rings" to customers, which can be plugged into any smartphone, and which enable any smartphone to be charged on the Powermat.
Mills told HuffPost Tech that Starbucks introduced the charging mats to make their customers happy.
Source:
HuffPost Tech
​
This year many retailers have decided not to wait until the very shopping day of Black Friday to reveal at least some of their deals. After Best Buy published online pretty much all of its deals, Walmart now steps in, announcing that is is launching a number of Black Friday sales a week early.
The company said that its 'Pre-Black Friday Event' will kick off at 8 a.m. on November 21. Some of the discounted gadgets, include the iPhone 6 and iPad Air 2, as you can see in the list from below:
$489 16GB iPad Air 2 with $100 Walmart gift card
$179 iPhone 6 with two-year contract from AT&T, Sprint and Verizon ($0 down on AT&T Next or Verizon Edge), and $75 Walmart gift card
$79 iPhone 5s with two-year contract from AT&T, Sprint and Verizon ($0 down on AT&T Next or Verizon Edge), and $75 Walmart gift card
$698 Samsung 58" Class Smart LED HDTV
$298 Samsung 40" Class LED HDTV with "Frozen Sing-Along Edition"
Walmart will be offering 16GB iPhone 6 models for $179 with two-year service agreement, along with a free $75 gift card, and 16GB Wi-Fi iPad Air 2 models for $489 with a $100 gift card. While it's not a 'clean' price cut, meaning you will have to spend the money at Walmart, it's still a pretty good deal.
Walmart's Duncan Mac Naughton said the following:
"The retail environment is incredibly competitive and we know that our customers are looking to us for the lowest prices all season long. That's why we've more than doubled the amount of items included in our Pre-Black Friday Event."
After Walmart's Pre-Black Friday Event will be over, the company will roll out the"New Black Friday," which will start online on the Thanksgiving morning and in-stores at 6 p.m. later that day.
Source: Walmart
​
Apple has been under a lot of fire recently from the European Union commission for labeling apps with in-app purchases as 'free'. Also, there have been countless scandals related to unauthorized purchases made by kids. Apple has tried to fix this in iOS 8 - the "Ask to Buy" feature notifies parents before a child can make an app or in-app purchase.
Also, Apple has recently also created a Kids Section on the App Store with even stronger protections to cover apps designed for children younger than 13. And now the company is taking the next step - it has relabeled all free apps on its iTunes and Mac app stores with 'GET'.
This is a little vague, as it sounds more like a call to action, than a price, but it makes it clear that while you can 'get an app', this doesn't mean it is entirely free.
At the moment, 11 of the top 20 "free" apps in the iTunes App Store use the "freemium" business mode, which seems to be the most successful one, as it represents 92 percent of all revenue on iOS and 98 percent of revenue on Google Play in 2013.
Source: Apple
​
It seems that Apple plans to push its Beats Music service to all iPhone and iPads next year, according to a recent story reported by The Financial Times publication. Apple bought the company for around $3 billion and now it seems that it is getting rid to reap the benefits from the acquisition.
Apple will equip iPhones and iPads with Beats Music via a software update, which could arrive as soon as March, the publication says. At the moment, however, we don't know whether the streaming service will arrive under the Beats brand or will be part of Apple's existing iTunes service.
At the moment, Beats Music exists as a US-only service, so it could be possible that the only North American owners of iPhones and iPads will get it, as probably there's more work to be done before the company can make the service available on a global scale.
Sales of digital music downloads have gradually declined, which has helped such services as Spotify and Pandora flourish. But now it seems that they are going to face huge pressure from Apple. Right now, a subscription to Beats Music costs $9.99 a month or $99.99 for 12 months.
Source: FT