Apple iPad Forum
​
It seems that not only consumers love Apple's new products, but investors, as well. Apple has made some big changes this year to how it handles its finances and stock. The biggest change was the 7-for-1 stock split, which means, in plain English, that more regular investors have been invited to buy Apple's stock as 1 the price of 1 share has been "cheapened" by 7 times.
And it seems that Apple is now reaping the benefits. The Apple stock has crossed the $700 billion market capitalization as the price per share reached more than $119.65. At a pre-split price, this translates into $837.13.
The last time when the stock peaked was back in late 2012, when it topped out in the mid $650's. So, what we're witness right now is $50 billion increase from two weeks ago. Here are some more details:
Apple's share price has increased by 50% since January 2014, and its market cap rose by almost the same multiple. At the moment, Apple is alsop the most valuable company, surpassing second-place Exxon Mobile which has a market cap of $400 billion.
Source: Apple
​
Lately, there's been a lot of talk with regards to the upcoming Steve Jobs movie. The rights for the film, which is based on Walter Isaacson's much-respect biography of Jobs, have belonged to Sony Pictures for the last two years. But now, according to a fresh report from the HollywoodReport publication, Universal Studios has bought the rights for around $30 million.
The publication says that Danny Boyle will direct the script written by Aaron Sorkin. Michael Fassbender is said to star in the film, and previous rumors suggested that it would be the main role. The movie is being produced by Scott Rudin, Mark Gordon and Guymon Casady.
Christan Bale and Leonardo DiCaprio are among the actors who have been rumored to play the role of the late Apple CEO. Seth Rogen and Jessica Chastain are reportedly likely to join the cast, with the former playing Apple co-founder Steve Wozniak and the latter taking on the role of Steve Jobs' daughter.
Source:
HR
​
Some of the busiest holiday shopping days are nearly upon us. Black Friday kicks off at the end of this week (although several retailers are starting early). Of course, Apple has their own Black Friday offers to bring extra holiday value to their customers.
Apple's Black Friday offer for 2014 is a series of gift cards for iTunes, the Mac App Store, the App Store, and the iBooks store. Sadly, you can't use the gift cards for your Apple Store purchases, but there are still some solid deals in this list. It's pretty simple. You just purchase one of the items on the list below (for its regular retail price wherever you purchase it), and you will get an Apple gift card with the value shown next to the item in the list.
Any iPhone (6, 6 Plus, 5S, 5C; excluding purchases through Apple's online store for $0 down): $50
Any iPad (Air, Air 2, Mini, Mini 2, Mini 3): $50
Any Mac (except the Mac Pro): $100
iPod Touch or iPod Nano: $25
Apple TV: $25
Beats headphones and speakers: $25
Most of the products are limited to two gift cards per household, so be sure to check out all of the details at the source link below. As an extra bonus this holiday season, Apple teamed up with Product (Red) which is an organization that fights against AIDS, tuberculosis, and malaria. Apple plans to make an undisclosed donation to the organization for each qualified purchase.
Source:
Apple Shopping Day Promo
​
To land a contract with Apple is perhaps the dream of any supplier in the world. But to get the deal is one thing and to see it through is another one. An interesting new article from The Wall Street Journal has current Apple suppliers speak about how is it to work with Apple.
The recent partnership between sapphire manufacturer, GT Advanced Technologies and Apple, has recently come to an end, and with this occasion, longtime members of Apple's supply chain have had some interesting things to share.
What most of them seem to agree on is that Apple is a ough but fair partner who offers component manufacturers a chance at success provided they take the proper precautions. The main advice that the companies shared is that suppliers shouldn't promise things they cannot deliver. Apple's current suppliers believe that this was the reason why the sapphire manufacturer that partnered with Apple couldn't deliver the material as promised.
Here are some more details about how GTAT failed to deliver the material:
Suppliers also said that over promising Apple, a company known for being strict and demanding, is a 'critical mistake'. For example, suppliers from Japan, are said to be conservative in what they tell Apple they can deliver, which is in big contrast to the large promises made by GTAT.
Apple's reputation for being difficult is fueled by the fact that supply chain managers are constantly looking to squeeze costs. Here are some more details:
​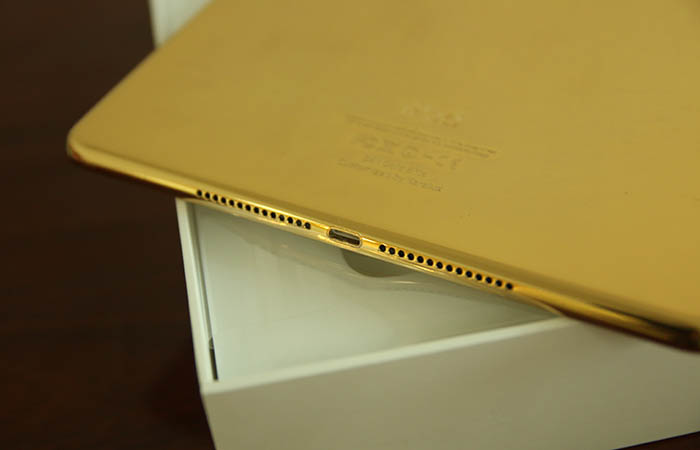 ​
If you think the gold-colored iPad Air 2 looks exotic, then what about an iPad Air 2 decked out in 24K gold? Vietnam-based jewelers from the Karalux company are now offering Cupertino's flagship tablet in 24K gold. And its price isn't as high as some of you might have expected, but that's probably because there are now diamonds glued to the tablet.
For around $1,173, you can get a 16GB model, which is more expensive by $674 than the original device bought straight from the Apple store. A 64GB version of the tablet draped in real gold costs about $1315. If you choose to buy one of these gold iPads, you will also get a gold-plated tie pin or a Zippo lighter with the same finish.
Customers can also order an iPad mini 3 with 24K gold finish. Karalux also unveiled a BlackBerry Passport that has received the same gold treatment. This company doesn't specialize just in customizing phones and tablets, but also in gold-plating supercars.
So, what do you think about this gold-plated iPad?
Source:
Karalux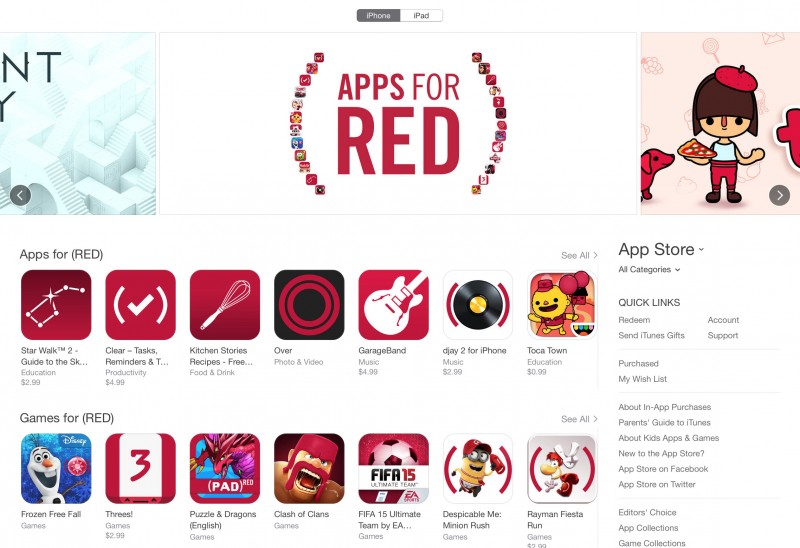 ​
Apple has announced its campaign for World AIDS Day 2014 will be done in collaboration with (Product) RED. The company will offer a special Apps for (RED) section in the App Store that will contain 25 apps with exclusive new content that will benefit the Global Fund to fight AIDS.
Apple said that it will donate a portion of its retail and online sales on Friday, November 28 and Monday, December 1. Tim Cook, Apple's CEO, said the following:
"Apple is a proud supporter of (RED) because we believe the gift of life is the most important gift anyone can give. For eight years, our customers have been helping fight AIDS in Africa by funding life-saving treatments which are having a profoundly positive impact. This year we are launching our biggest fundraising push yet with the participation of Apple's retail and online stores, and some of the brightest minds in the App Store are lending their talents to the effort as well."
The Apps for (RED) campaign in the App Store will run from today to Sunday, December 7, and will include special versions of apps like Angry Birds, Clash of Clans, DJay 2, Clear, Paper, and more. Bono, co-founder of (RED), also shared his input:
"Apple isn't just in the fight to end AIDS. They are setting a new bar for business. I couldn't be prouder to work with them."
Apple and App Store developers will generate donations for (RED) in several ways over the next two weeks, as follows: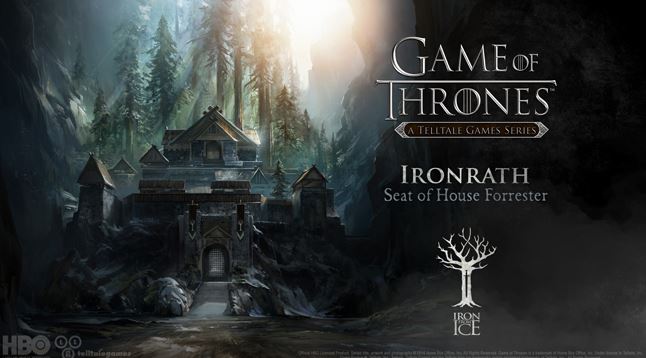 ​
Telltale Games has announced some cast details about its forthcoming Game of Thrones episodic series, as well as releasing the first
trailer
.
It's really exciting for fans of the TV series to hear that several cast members from that show will be reprising their roles in the game, as characters that the player's characters from House Forrester get to interact with throughout the series.
These include Tyrion Lannister performed by Peter Dinklage, Cersei Lannister performed by Lena Heady, Margaery Tyrell performed by Natalie Dormer, and Ramsay Snow performed by Iwan Rheon. Telltale says that other cast members are also set to be announced.
The new location of Ironrath, the home of House Forrester, is a stronghold surrounded by ironwood trees. The Forrester house words are "Iron from Ice," which reflect their belief that, just as with the ironwood, the harsh, unforgiving weather conditions and grim landscape of their homeland in the North help to make them strong.
The storyline sees House Forrester under threat, however, and it's the player's job to try and save the noble House. The game will be played from five different viewpoints, each one being that of a character from House Forrester, either a family member, or someone who is in service to the house.
Source: Telltale Games
​
Following on from the launch of Skylanders Trap Team on iPad back in October, Activision has today announced the start of the #TrapAndPlaySweeps competition, as well as the arrival of Trap Team Starter Packs in Apple Retail Stores.
The three-week sweepstakes has been launched to celebrate the arrival of the game on iPad. All Portal Masters have to do to join in is tweet photos or videos of themselves playing Skylanders Trap Team to @SkylandersGame, using the #TrapAndPlaySweeps and #Skylanders hashtags.
There are some cool prizes to win, apparently, but Activision hasn't divulged exactly what yet! The competition finishes on December 11, so be sure to get tweeting your photos if you want to enter.
As well as announcing the sweepstakes, Activision also announced that Skylanders Trap Team starter packs are now available at Apple Retail stores and the Apple Online Store.
Source: Activision