Joined

May 7, 2010
Messages

2,361
Reaction score

20
Location
Website
for my original iPad I had made my own mount that involved a custom cut piece of plastic, some velcro and a suction cup iPad mount holder. This time around with my iPad 3 I wanted to mount the iPad but wanted to make the process of mounting the iPad when entering/leaving the car easier. I had the previous mount on the stereo flap and wanted to mount in the same place. I removed everything from the previous mount (minus some sticky goop that I still need to get off later) and decided to keep things simple this time.
First thing I did was get a back cover for the new iPad. The one I ended up getting was a Mercury Innovations iPad 2 case from radio shack for $9. I had them let me try the case to make sure it would fit the iPad 3 before buying and at first glance it seemed to fit perfectly and all the cutouts matched exactly. I have since noticed that the cut out for the power cable is just a tad big low for it to be able to just easily plug in, I have to pull the lip up a little to get the power cable connected. (I'll modify the case later to it fits easily, this will be simple and easy fix to make the case 100% compatible.
The next step I did was to go to a local store and pick up a pack of velcro squares for $3.79.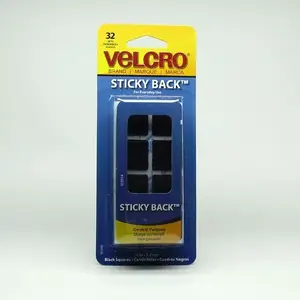 I then applied the velcro squares to the back of the iPad case so that I would not mess up the iPad itself. I made sure to but the soft squares on the iPad case and not the prickly ones.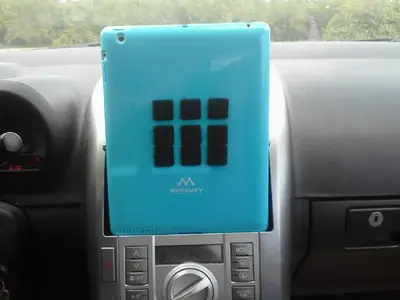 I liked how the iPad could rest right inside the stereo cutout window and decided I would make some way for it to be used in that position without risk of it falling. I put some velcro squares on the bottom of the stereo flap to keep it in place.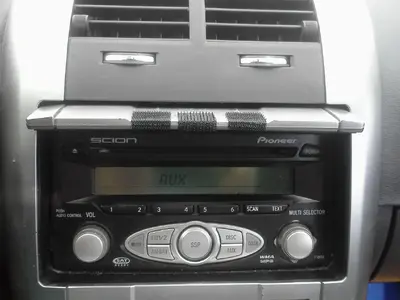 The end result looks like this, One plus to this is that the camera is high enough that I can even have it record video while I drive of whats going on in front of the car. Yet the iPad is still low enough that it does not block any part or your view out of the windshield.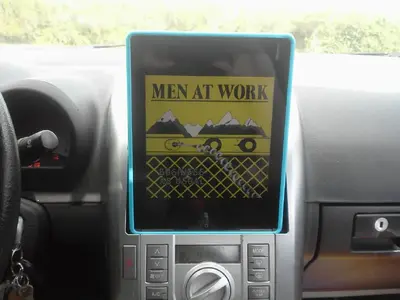 I then added some velcro squares with the stereo door flap closed so that I could mount the iPad in Landscape easily. In the picture you can still see the residue from my last mount that I have not yet removed.