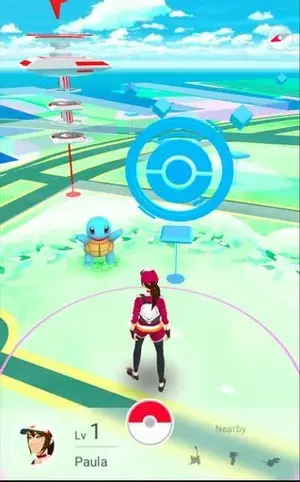 ​
The Pokémon Company and Niantic Inc. today announced some new details about the forthcoming mobile game Pokémon GO, which is due to launch later this year.
The game encourages fans to search for Pokémon in the real world. The game is currently still being developed, with an early-user test planned for Japan during this development phase.
The unusual Augmented-Reality-based game will see Pokémon fans getting to explore their real-world surroundings in order to find and catch wild Pokémon, with some appearing only in their native habitat, with Water-type Pokémon being found near lakes and oceans, for example. When you approach the location of a Pokémon in the wild, your phone will vibrate to let you know there's one nearby. You then have to use your phone's touch screen to throw a Poké Ball at the Pokémon.
As you progress through the game, your Trainer level will increase so that you can then capture more-powerful Pokémon, just like in the regular Pokémon games. If you catch some of the species multiple times they can evolve.
Pokémon Eggs and other items, including Poké Balls, can be found at PokéStops, and will hatch after you've walked for a certain distance. You can also earn achievement medals by completing a variety of challenges.
Players can also participate in Gym battles in one of three teams against other teams. Just as with PokéStops, Gyms can actually be found in real-world locations.
The unusual style of real-world gameplay reflects Niantic's desire to combine mobile location technology and Augmented Reality to create the sort of gaming experience that will motivate players to go outside and explore their surroundings.
Source: The Pokémon Company and Niantic Inc.