I trying to find a calendar application to run on my ipad and macbook that has:
Basic events and tasks, preferably viewable together in one view;
Can be sync'd between my macbook pro and ipad2;
Lets me keep my non-gmail email address, and;
Best if it's one application that runs on both devices, but I doubt that I'll find it.
The view I use on the macbook calendar is pretty simple -- weekly or monthly calendar view with tasks listed somewhere, like this: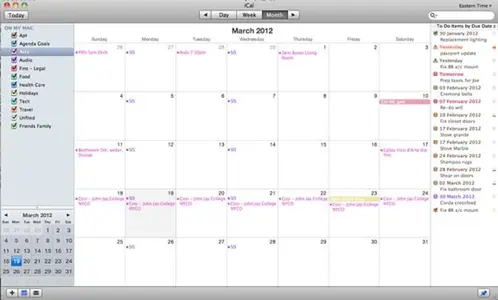 ​
To make it even easier, all I need for tasks is the task name, due date, and whether it's completed or not.
I've found these:
Agenda (Appsavvy) -- nice interface, but no tasks
Plan & Note (Gocgogo) -- has events and tasks on separate views, but no version that runs on OSX
Calendars 3 (Readdle) -- syncs tasks and events, but only if you use a gmail/IMAP email account
​
Lotus Notes (IBM) -- requires a Domino server
​
Anyone have a suggestion?
Thanks,
Bill