Joined

Jun 22, 2012
Messages

1,430
Reaction score

105
Location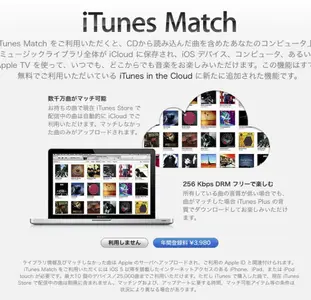 ​
The iTunes Match service first debuted in November, 2011, being initially available to US users only. Since then, the service has been gradually rolled out to users from other countries, now being available in 117 countries. For those who don't, by using this service, Apples customers can scan and match tracks in their iTunes music library, including tracks copied from CDs or other sources, with tracks in the iTunes Store. This way, they don't have to repurchase the tracks that they already own. Here are some features of this service:
Customers may download up to 25,000 tracks in 256 kbit/s DRM-free AAC file format that match tracks in any supported audio file formats in customers' iTunes libraries, including ALAC and MP3. Customers also have the choice to keep their original copies stored on their computers or have them replaced by copies from the iTunes Store. Any music not available in the iTunes Store is uploaded for download onto customers' other supported devices and computers; doing this will not take storage from the customers' iCloud's storage allowance. Any such tracks stored in the higher quality lossless audio ALAC, or original uncompressed PCM formats, WAV and AIFF, are transcoded to 256 kbit/s DRM-free AAC format before uploading to the customers' iCloud storage account, leaving the original higher quality local files in their original format.
After a long wait, Apple is now expanding its iTunes Match service to Japan, and it will costs 3,980 yen per year, which is roughly $39. For comparison, iTunes Match is $25 per year in the U.S. Thus, iTunes users from Japan will now be able to match their existing iTunes libraries with high quality versions of songs from Apple's iCloud. Their content will be available in iCloud and can be accessed from any device. The most recent countries where iTunes Match was introduced Finland, Denmark, Norway and Sweden - last December. Apple launched its iTunes Radio music streaming service in Australia in February.
Source:
iPhoneForums