The MobileLite serves up content from a USB drive or SD card via a personal Wifi hotspot. Included in the box is the unit itself, a micro usb charging cable, a micro SD card adapter and user guide. There is no charger included but since any USB charger or port can be used as a power source to charge the internal battery, this is no great hardship. Also absent from the package is a form of protective or carrying case. While this is a product that is likely to be carried along with other tech gear in a bag, it would have been nice if it came with something to store it in to avoid any form of ingress into the exposed ports.
Physically this is a similar size to two iPhone 5s stack on top of each other but noticeably lighter. On the top you have three LEDs providing information on the device's status including battery level, WiFi signal / disk activity & Internet pass through. On the side you have the power button and connection ports are on each end. One end houses a micro USB port for charging or for connecting the MobileLite as a card/USB reader to a computer as well as the full sized USB port. On the opposite end you have the SD card slot which supports SD, SDHC & SDXC cards as well as micro cards using the supplied adapter.
Powering up the MobileLite is achieved by a three second press of the power button and takes around 20 seconds to start up and be accessible via Wifi. As soon as you see the Wifi LED glow a solid blue then you are good to go.
When the device is ready, you should be able to find it's Wifi signal if you search on your client device. For this review, I am using an iPad but it should work with any Wifi enabled device including tablets, smart phones, laptops etc. First time connection to this MobileLite over Wireless is straight forward with no password required. A password can later be applied if desired using the MobileLite app or a web browser. While I would typically get more use of a device like this when travelling, you do have the option of a network pass through or bridge. This means if you are using it at home, you can connect the MobileLite to your home Internet connection and connect your device to the MobileLite. This way you have access to the content on the MobileLite as well as still having full access to the Internet without the need to switch network connections. This would also work just the same in a hotel room if using the Hotel's Wifi Internet connection.
Now that you are connected to the MobileLite, you need a way of interacting with it and you have a few options. There is a free dedicated app for IOS & Android which lets you browse connected media, playback supported formats, manage content and also change configuration of the MobileLite. The app for IOS is universal and is handy depending on how you intend to use your MobileLite but not a requirement. Once connected, you can use a browser instead which will let you change the device settings as well as browse content. The app is still well worth having installed as it lets you fully manage the content attached to the MobileLite.
One of the primary uses for me is media playback, especially movies when travelling and my collection contains various formats that are not natively supported by IOS and therefore nor by the official app. If you encounter such media, you can use the app to download it to your IOS device instead and then use the 'Open in' feature to open this with a media player that supports the format you are trying to playback. This means streaming of these formats using the official app is not an option but there are other apps that will do the job. My personal favourite is the universal nPlayer app which can connect via uPNP or SMB protocol and either stream or download files from the MobileLite. Searching for uPNP or SMB shares using nPlayer did show up the MobileLite device automatically so connecting was very straight forward but if you run into issues you can still manually configure a connection using the ip address which is displayed in the MobileLite app. For reference, the default IP address of the MobileLite is 192.168.200.254. Connecting via uPNP, not all my test video files were available, it seems the DLNA version used here is limited and MKV files for example were not displaying. Connecting via SMB instead offered up all my video content and I could stream and download without any issue.
Looking at performance, the MobileLite did very well indeed. The most taxing use of this would be to stream video content so I focused my testing on this. I loaded up a 64GB SDXC card formatted as exFAT with a variety of movie files. I repeated the testing with a 16GB USB Drive formatted as FAT. In both instances, a listing of the drive contents was displayed in the official app after just a very slight delay. Repeating this test with a 2TB 2.5" portable USB drive formatted as exFAT yielded similar results which was great considering this drive contained over a terabyte of movie files in various folders and formats. The listing of this drives contents did take a little longer at around 15 seconds but still perfectly acceptable. I tested playback of a 10GB 1080p MKV movie file in nPlayer which streamed perfectly smoothly with not a single hiccup in video or audio. This is a great illustration of this device being able to sustain a high enough throughput for practically any kind of movie watching.
I can see as convenient that streaming is however that often I would load up media when going away on vacation for example and only download content to the iPad when I was running out of things to watch - especially if storage space was tight on the client device. In testing this, I found the transfer speed to be quite decent at around 4- 5MB per second using the official app. This means a 700MB movie file would take around 3 minutes to download from the MobileLite to the iPad for 'offline' playback. While people may be happy with the streaming option, downloading for local playback means you can save on battery life, both on the MobileLite itself as it only needs to be on for a few minutes instead of the full duration of the movie and also on the iPad itself as you can turn off Wireless after downloading the file.
Of course, you are not limited to movie files. You can use the MobileLite to store and transfer all kinds of files such as music, photos and documents. You can also do things in reverse and copy files from your client device up to the MobileLite. The official app lets you manage the files in its own file system and upload anything to any of the connected drives. The app also gives you access to your camera roll so you can upload photos and videos directly from your IOS device without the need to import them into the MobileLite app first. This can be a great tool when on vacation to back up images and video you have taken or to allow you to free up space on your device. This functionality also extends to managing the drives connected to the MobileLite so you could copy files from an SD drive to a USB drive or vice versa when out in the field using the IOS device to control proceedings. You essentially have a two drive portable NAS in your pocket and that means others apps such as FileBrowser or GoodReader will also work just fine for retrieving content.
All this content delivery is great but the FileHub's uses don't stop there. While it runs off its own internal battery, it can share this power via the USB port to other devices if they need a top up when away from the mains. The battery capacity of this device is 1,800mAh which is good for around 4 hours of continuous use which would see you stream a couple of standard length movies. Going down the download route instead could see you transfer up to around 40 movies between charges depending on media source and file size. I would imagine a 2.5" portable drive with its mechanical spindle would use up more power however meaning a reduced runtime. When not using the MobileLite for media sharing, the battery can be used to charge other devices. The iPhone 5 for example has a 1,440mAh capacity battery so could be fully charged by the MobileLite when out in the field. Unfortunately the much more power hungry retina iPads are a step too far for this emergency power - you would need a dedicated power bank for the larger screened slate. In truth, as much as this extra is a nice to have feature, I would only consider it in a real emergency and keep the battery purely for running the file sharing capabilities of the unit itself. Charging pretty much any smartphone on the market today would be close to exhausting the battery of the MobileLite completely.
I'm a big fan of these types of devices and the MobileLite is no exception. Regardless of whether you treat this as a wireless card reader or portable NAS device, the flexibility on offer is excellent. While the battery capacity is not as high as some other devices on the market, this is actually one of the easier ones to get up and running. If you are a heavy media user that travels a lot, the Kingston MobileLite seems like an essential purchase that would actually more than pay for itself if you upgrade your IOS device just once. I'm a big fan of IOS devices but one criticism I do have is the cost of upgrading from the base model to a higher capacity device; in the case of the iPad it is £60 for each storage jump! For a one off cost of less than £40, you have a device that is only limited by the capacity of media connected to it. You can easily hot swap between different SD cards or USB drives and because the SD slot is full sized, you can insert a compatible card that will sit flush and offer a form of semi permanent storage if desired. If you have multiple IOS devices or other family members with similar products, this again seems like such a no brainer as up to three users can connect to this unit at the same time. The emergency backup battery is a welcome addition but I would treat it exactly as that; an emergency solution given the relatively small battery capacity. I can find no genuine negatives to stop me whole heartedly recommending this device to road warriors and gadget lovers alike. This just made my next iPad purchase a whole lot cheaper knowing the 16GB model will suffice!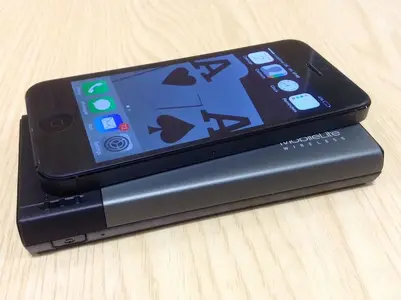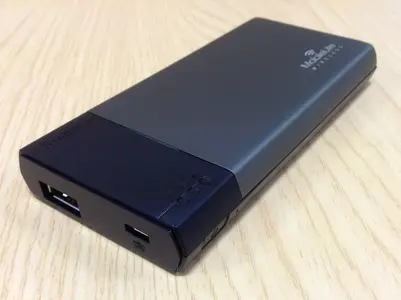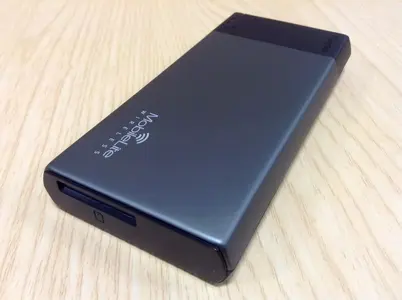 Video review:
Last edited by a moderator: