Joined

Jun 22, 2012
Messages

1,430
Reaction score

105
Location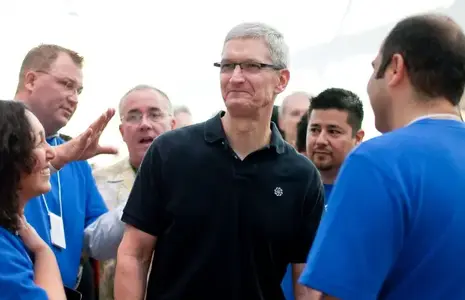 ​
When it comes to Steve Jobs and its leadership style, there are plenty of books to choose from, many which were written when the late Apple co-founder was still alive. However, Tim Cook's way of leading the way at Apple is lesser known. A new book, called the "Haunted Empire, Apple After Steve Jobsâ€, written by former WSJ reporter Yukari Iwatani Kane, tries to shine a light into how Tim Cook runs the company and how his style differs from the iconic Steve Jobs had:
Cook was a seasoned businessman and arguably a better manager than Jobs. He was organized, prepared and more realistic about the burdens of running a company of Apple's size. But no one could beat Jobs at being Jobs—especially Cook, his polar opposite. Tim Cook and Steve Jobs at an Apple news conference in 2007 Corbis. If Jobs was the star, Cook was the stage manager. If Jobs was idealistic, Cook was practical. But without Jobs, Cook had no counterweight to his dogged pragmatism. Who would provide the creative sparks?
Iwatani Kane further describes Cook in his book saying that he was a very disciplined, realistic but yet incredibly motivational leader:
From the start of his Apple tenure, Cook set colossally high expectations. He wanted the best price, the best delivery, the best yield, the best everything. "I want you to act like we are a $20 billion company,†he told the procurement team—even though Apple then had only about $6 billion in annual revenues and was barely eking out a profit. They were playing in a new league now. To some, Cook was a machine; to others, he was riveting. He could strike terror in the hearts of his subordinates, but he could also motivate them to toil from dawn to midnight for just a word of praise.
Albeit Tim Cook seems very friendly in his interviews, as it turns out, he didn't like to engage in personal conversations with Apple's employees and actually worked out a different gym than the one at Apple's quarters.
Those who interacted only passingly with Cook saw him as a gentle Southerner with an aura reminiscent of Mister Rogers. But he wasn't approachable. Over the years, colleagues had tried to engage him in personal conversations, with little success. He worked out at a different gym than the one on Apple's campus and didn't fraternize outside of work.
It's curious to learn that despite not having to worry about money, he was know to be frugal.
Cook was also relentlessly frugal. For many years, he lived in a rental unit in a dingy ranch-style building with no air conditioning. He said it reminded him of his humble roots. When he finally purchased a house, it was a modest 2,400-square-foot home, built on a half-lot with a single parking spot. His first sports car was a used Porsche Boxster, an entry-level sports car that enthusiasts called the "poor man's Porsche.â€
If you're interested in learning more about Tim Cook, then you can purchase the 'Haunted Empire: Apple After Steve Jobs' book by Yukari Iwatani Kane which currently retails on Amazon for around $20.
Source:
iPhoneForums