Hi, Hope you can help. I've been reading through a lot of topics, but can't find my problem.
I have I-tunes on my PC since 2 years. Started with an I-pod Nano. Works great. Got the I-pad2 in October 2011. Installed a lot of music (from my own cd's, not from the appstore), Apps, books (both from the app store) etc. Worked great until last month (hardware problem, probably the lcd, but they didnot say). Fortunately it was still under warrantee and the apple store replaced it for free. Great service from Apple!
Now, I connected the new I-PAd2 to my computer and everything downloaded perfectly from my I-tunes back up: apps, books and music (although half of the music did not, but they were still in my I-tunes library). After that, I connected my I-pod nano to the computer and it treated my i-pod as if it was a new one, telling me the device was successfully installed and it looked as if it installed a new i-tunes (but I am not sure, it went so fast!!).
Anyway: my whole old I-tunes library with all the music, books and apps is gone!! And if I ask I-tunes to synchronise, it tells me my I-pod is based on another I-tunes library, but I can't find it anywhere, even not in 'previous libraries'. I found the books and app files in Computer/D/music/itunes (as in the attachment) under 'books', mobile applications' and 'music', but not as an I-tunes librairie.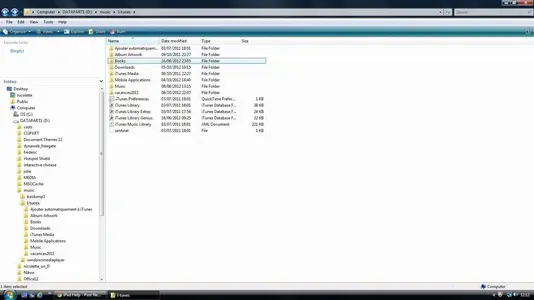 The music is still all on my I-pod nano, and the apps and books are still on my new I-pad2 (also after upgrading to Ios6, by wifi,directly from my I-pad, in 10 min!).
Does anyone have an idea how to export my music files from my i-pod into the new i-tunes librairie, and to export the apps and books from my i-pad to the same i-tunes librairie? I tried something I saw on the apple website, where they showed you open the i-pod on your computer screen in order to see the files, but there was no 'i-tunes' file in there..
Thanks for your help, hope I made myself clear..