Joined

Jul 20, 2013
Messages

6
Reaction score

0
Morning all,
Another Dropbox issue I'm afraid....
The problem is I'm using Dropbox to share file content (the file sizes are usual 2-3gb) once the fils is no longer needed I delete the file from Dropbox and it's folder it is located in. When I check Dropbox it is showing 0.1% of 3.9gb used.
However
When check in settings/usage via the iPad I find that the Dropbox app is still showing the file content after it's been deleted from Dropbox (see below)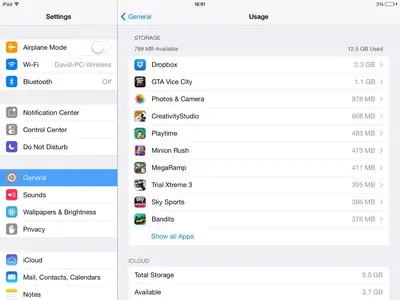 As you can see from the uploaded image this is having an effect on the amount of storage I have left.......
Any thoughts on how to rectify this annoying issue.......??????? I can only get the iPad to clear this data when I delete the app and reinstall with is a hassle....
Your thoughts as ever are greatly appreciated
northern