Joined

Jun 22, 2012
Messages

1,430
Reaction score

105
Location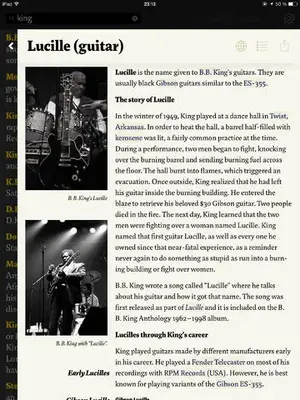 ​
There are many apps on the iTunes store that let you browse Wikipedia, but das Referenz: Wikipedia is a new addition which will definitely impress iPad users. It brings the immense information from Wikipedia and wraps it in a book-inspired design for an intuitive and beautiful experience. And what's even better is that the app can be downloaded completely for free, albeit it is supported by advertisements.
Encyclopedias have always showcased culture and style. Das Referenz strives to build on this heritage. With an eye for detail, Das Referenz puts Wikipedia's vast amount of knowledge into a sleek package of clear layouts, world-class typography, and playful interactions. For many articles, Das Referenz pulls additional data from Wikipedia's latest endeavor: Wikidata. It's used for the timelines you'll find in articles on historical figures and celebrities. We will add additional interesting information and visualizations in the future—can't wait to show you!
Navigation inside the app is like a breeze, letting you swipe pages blazingly fast. Also, the content is structured really well, with images appearing on the left, and the text of article on the right. The clean layout and the three font size ensures that you get to read your texts just how you like them. To increase the speed of the app, the article pictures are black and white and they reveal their full range of colors and maximum resolution only when you touch them.
The app comes with quite a lot of features for typography lovers, such as ligatures and hyphenation being available in many languages. So, if you rely on Wikipedia to find quick facts and research on various subjects from your iPad, then go ahead and download the app.
Source:
iTunes