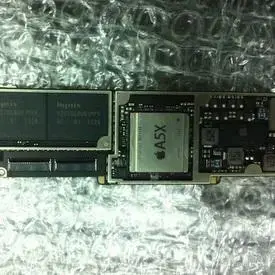 The photo, showing an "A5X†system-on-a-chip, appeared in a

forum post

at Chinese site WeiPhone that claims the image shows the iPad 3 logic board.


An "A5X†designation indicates that Apple plansto use an upgrade to the A5 chip that powers the current iPad 2 rather than anew "A6†quad-core processor that some have speculated Apple would include the new iPad.

Chip analyst Nathan Brookwood says Apple hasalways been able to squeeze more performance from its hardware than its Android competitors because it controls the hardware and software. For example, he notes the iPad 2 with its dual-core A5, performs better than dual-core Androidcounterparts.

Still, Brookwoood said he wants to see how well well the iPad 3 performs versus tablet competitors now on the market like the Asus Prime that uses Nvidia's Tegra 3, a quad-core processor.

"Performance matters a lot for games andadvanced applications,†said Brookwood, who heads the

Insight64

consultancy. "There will clearlybe an advantage to having quad-core there for gaming and to the extent thatmore websites move to HTML5, something both Apple and Microsoft are promoting,you want more horsepower under the hood.â€

If the A5X photo is real, the logic board showsa pair of 16 GB flash memory chips from Hynix, notes MacRumors, and a rectangular Apple-branded chip.

There is no official word from Apple as to whether the iPad 3, or whatever it ends up being called, is even in the works,but numerous reports from supply chain partners and others indicate that Appleis far a long on the successor to its best-selling iPad 2, which many expect tobe unveiled at an event in San Francisco on March 7.


Source:slashgear