As reported on imore.com...
iPad 3 rumored to be shipping from factories on Feb. 26, arriving in U.S. March 9, available for pre-order sometime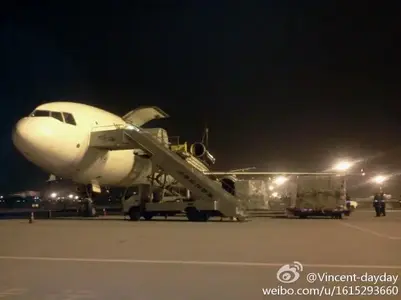 Photo of iPad 3 units being loaded on planes? (thanks @sonnydickson)
Adding to the mountain of iPad 3 rumors is word that shipments of Apple's next generation tablet will be leaving Foxconn factories in China on February 26 for arrival in the U.S. on March 9.
Friends broke the news: Chengdu International Airport at major international cargo charter flights, cargo owners demanding security, from CTU takeoff by stop PVG Shanghai, and then directly to ORD Chicago, the JFK New York, LAX in Los Angeles, March 9, completed before transport. According to the privately disclosed the Chengdu F production for the U.S. A company's latest products… Received friends inside information, Chengdu International Airport night cargo charter flights, said the owner of the security demanding, and in private that the Chengdu Fu X Kang new products. Takes note of the location of the United States (ORD Chicago, JFK New York, LAX in Los Angeles)
Looks like there may be some components, including storage chips, being shipped as well, according to photos found by Sonny Dickson. iMore previously heard that Apple was planning their iPad 3 event for March 7 and BGR has reported that iOS 5.1 was scheduled for March 9.
Apple released the last 2 iPads on Fridays, so that's consistent, however at 2 days it's also a far shorter period of time than last year's 9 days (announcement on March 2, launch on March 9). A GM version of iOS 5.1 hasn't even been released to developers yet, let alone a version that supports additional features presumed to be coming with the iPad 3. If Apple releases the GM seed of iOS 5.1 at the iPad 3 event, we'd expect at least a week between that and final release, a couple days before the product launch.
Furthermore, 9to5Mac's Marc Gurman has heard there may be pre-orders for the iPad 3, which would also indicate a slightly longer timeline. While the iPad 2 didn't have pre-orders, the iPhone 4S did (announcement on October 4, pre-orders on October 7, launch on October 14).
Gurman has also heard more talk of the iPad 2 sticking around at a lower price point.
Additionally, our sources are pointing to the discontinuation of all iPad 2 WiFi + 3G models and all iPad 2 WiFi-only models (except the black and white 16GB units – at least initially) when the iPad 3 launches. This would refute rumors of Apple launching the Retina Display-packing iPad 3 as an extension of the iPad 2 line, and would seem to back up rumors of Apple keeping the 16 GB iPad 2 around at a lower price point. This iPad 2 model discontinuation information is based on Apple product supply checks.
Last edited: