Joined

Jun 22, 2012
Messages

1,430
Reaction score

105
Location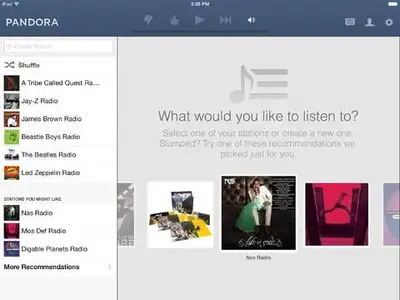 ​
Pandora is one of the best music streaming and automated music recommendation services, currently available for users in the United States, Australia and New Zealand. To satisfy its customers who are using an iOS device, Pandora has released a dedicated app on iTunes quite a while ago, and it has continuously developed it since day one. Now, an important feature has been made available for iPad users - the alarm clock.
Great music discovery is effortless and free with Pandora. Just start with the name of one of your favorite artists, songs, genres or composers and we will do the rest. It's easy to create personalized stations that play only music you'll love. Tap into an entire world of music, including almost a century of popular recordings - new and old, well known and obscure. Create up to 100 personalized radio stations with your free account. Not sure where to start? Create a free account to explore hundreds of music and comedy genre stations.
Version 5.3 of the iOS Pandora Radio app brings the following features:
Start waking up to music you love – the Pandora alarm clock is now available for iPad
Pick your your favorite station to play as your alarm
Not ready to wake up? Adjust the snooze time to catch more zzz's
So, if you're been using Pandora for a while now, you will be glad to hear that now you can pick your favorite song or station to play as your alarm. Besides the updated app for iPad, Pandora also announced a new Pebble watchface which can be downloaded from the Pebble app store for iOS.
Due to pressure from record labels, Pandora has increased the pricing of its subscription plans, and now the cheapest one will cost $4.99 per month starting in May. However, you can choose the free account which lets you create up to 100 personalized radio stations.
Source:
iTunes