Administrator
Staff member
Joined

Jan 17, 2010
Messages

1,408
Reaction score

130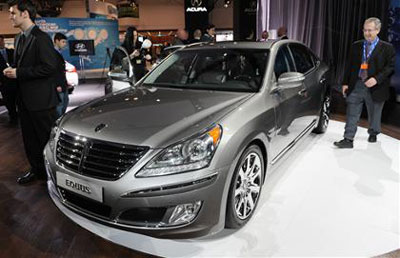 In the market for a luxury car and an iPad? Well, Hyundai has the package for you! The Equus is Hyundai's flagship new luxury sedan. It features a 378-horsepower v8 and a 9.7-inch LED backlit glossy screen. According to USA Today the Equus owner's manual will only be available on the iPad.
All the features on the new Equus will be contained in the iPad for quick reference, but owners can use it for any of it's other features as well. Hyundai Motor America CEO John Krafcik referred to the iPad as an "interactive" owners manual.

Including an iPad in the luxury car will up the car's gotta-have factor, predicts William Matthies of research firm Coyote Insight, who follows developments in automotive electronics. "Many will respond positively to the inclusion of an iPad, not because they needed or planned to buy one, but simply because it is topical and cool," Matthies says.
​
We all know the auto industry is like a bunch of lemmings. One manufacturer offers an incentive, next month they all do it. How soon before other auto manufacturers follow with similar offers? Let us know your thoughts!
[Source: USAToday.com]