Hi all!Let me start by saiyng this is in awesome community and I'm glad to finally be a part of it (new member).
I'm a little bit confused about this and I was counting on you guys to clear me out.
I am a happy owner of an iPad (3rd) and I want to be able to stream media content from the iPad to the TV,mostly YouTube videos and music in FLAC 16/44,using 3rd party apps such as FLAC Player.Is this possible?Will a (jaibroken
?
) Apple TV (3rd) be able to do that?I'm interested in
stereo only
so I will disable the Dolby Digital function found in the Apple TV.
I also want to add an external DAC (CA DacMagic 100) to the Apple TV and connect it to the amplifier.Here's a paint sketch of what I have in mind: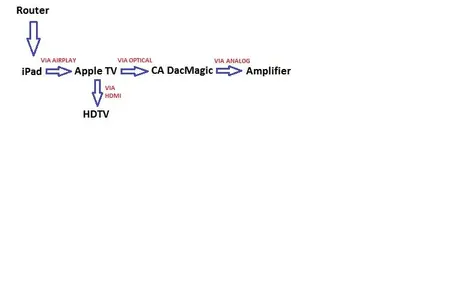 Can someone please confirm me if any of this is correct?If not,please feel free to recommend me some alternatives.
Thank you in advance!