Administrator
Staff member
Joined

Jan 17, 2010
Messages

1,411
Reaction score

139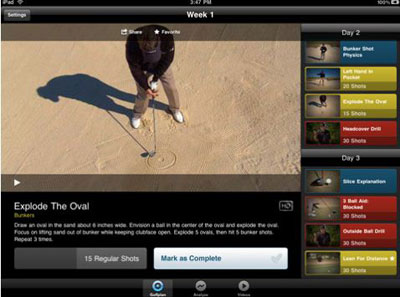 ​
PGA Tour professional Paul Azinger has already had a lot of success with Apple's #1 Golf App, Golfshot: Golf GPS, which was the first universal instructional golf app based on actual golfer's stats. Now he's unveiled another app for the iPad as well as the iPhone and iPod touch, which is available now for $7.99 from the iTunes iPad Store.
The app is called "Golfplan with Paul Azinger", and you can really see from the screenshot how well the app uses the iPad's big screen. Golfplan is designed to automatically identify areas that need improvement in a golfer's game and generate individualized practice plans to address those needs. The app addresses the five major areas of the golf game – driving, greens in regulation, scrambling, recovery, and putting. Golfplans are created by handicap or by using Golfshot statistics. Here's what Azinger had to say about the app:
"Golfshot reinvented Golf GPS with the help of the iPhone and I wanted to change the paradigm of golf instruction using the iPad. It was only natural to partner with the Golfshot crew to create a revolutionary app to provide intuitive instruction for our members using their own golf stats."
Golf fans, will you be taking your iPad onto the links with you?
By Maura Sutton
www.iPadForums.net