Joined

Feb 23, 2012
Messages

4
Reaction score

0
i have an ipad 1, running ios5.
PROBLEM:
-I simply cant move the apps on the home screen of my ipad.
-I click and hold on the apps as you would normally do on any ios device to move them around but they don't go into that little wobbly mode where you can drag them around with the X button option or anything. It just dosent do anything as i hold my finger on the app.
-I have hard restarted and restored
-This is very annoying and i cant find out anywhere what the problem is.
-I DONT have the problem where i can't drag the apps to another screen, i cant drag them anywhere at all!!!
-i know i can plug it into itunes and move the apps around but thats not the point...
-i can bring up the multitasking bar and move the apps on the bar but just not on the home screen.
-!!!!!!!!!!!!IPAD NOT JAILBROKEN!!!!!!!!!!!!
thanks for any help in advanced!
a video showing the problem:

http://youtu.be/YcIxLo47B8w

a picture of my general settings tab which does not have "restrictions" or a lock pass code option, or even a reset settings option, very very odd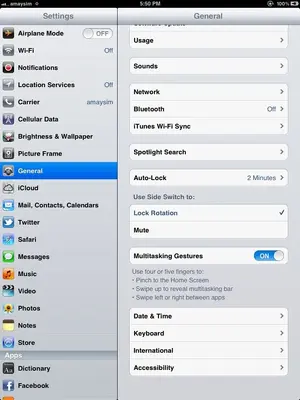 click to view larger
Last edited: