Joined

May 12, 2011
Messages

1,301
Reaction score

417
Location
美國商務部(Federal Business Opportunities)的網站公告, ,空軍空中機動司令部(Air Mobility Command) 打算要求添購63部至1.8萬部iPad 2或同等產品以充做電子飛行包 -
Electronic Flight Bags
The Government plans to issue a Request for Proposal (RFP) for a minimum of 63 and a maximum of 18,000, iPad 2, Brand Name or Equal devices. This equipment will be utilized as Electronic Flight Bags (EFB) for flightcrew members and trainers.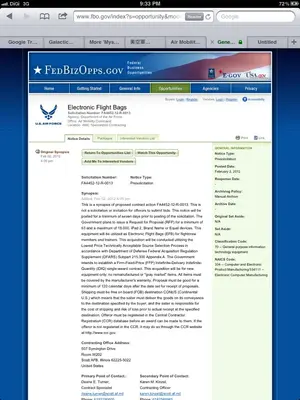 規則如下:
1) 政府要求最低價,
This acquisition will be conducted utilizing the Lowest Price Technically Acceptable Source Selection Process in accordance with Department of Defense Federal Acquisition Regulation Supplement (DFARS) Subpart 215.300 Appendix A
2) 這是一個單一定單,
The Government intends to establish a Firm-Fixed-Price (FFP) Indefinite-Delivery Indefinite-Quantity (IDIQ) single-award contract.
3) 產品必須是原裝貨和廠商保證,
This acquisition will be for new equipment only; no remanufactured or "gray market" items. All items must be covered by the manufacturer's warranty.
4) 報價書的任何提議,在120天內是屬於有效期,
Proposal must be good for a minimum of 120 calendar days after the date set for receipt of proposals.
5) 產品必須以離岸價*的方法出售,
*按离岸价进行的交易,买方负责派船接运货物,卖方应在合同规定的装运港和规定的期限内将货物装上买方指定的船只,并及时通知买方。货物在装船时越过船舷,风险即由卖方转移至买方。- Wikipedia
Shipping must be free on board (FOB) destination CONUS (Continental U.S.) which means that the seller must deliver the goods on its conveyance to the destination specified by the buyer, and the seller is responsible for the cost of shipping and risk of loss prior to actual receipt at the specified destination.
6) 賣方必須已向中央承包商註冊局註冊,如非註冊者,只要向中央承包商註冊局註冊即可。
Offeror must be registered in the Central Contractor Registration (CCR) database before an award can be made to them. If the offeror is not registered in the CCR, it may do so through the CCR website at http://www.ccr.gov.
加油啊,所有Apple Authorized Dealer,18,000 部iPad哩!
文章來源:
1)
美空軍 要買1.8萬台iPad 2
2)
Air Mobility Command to purchase iPads for flight crews
Last edited: