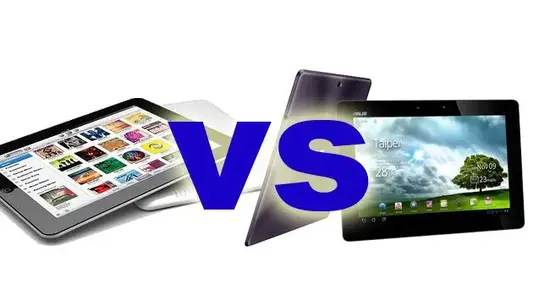 Apple iPad 3 vs Asus Eee Pad Transformer Prime
Apple's iPad 3 is enjoying a healthy amount of attention in the run-up to its official unveiling, which is rumoured to take place in March of this year.
Camera
The Asus Eee Pad Transformer Prime features an 8-megapixel primary camera with autofocus, LED flash, geo-tagging and 1080P video capture and a secondary 1.2-megapixel camera for video-chat and vanity shots.
Both cameras on the Asus perform well with the primary offering easily outperforming any other tablet camera we've used to date.
The iPad 3 will likely feature an improved camera, with some parties predicting an 8-megapixel snapper like that seen on the excellent iPhone 4S, which will likely benefit from autofocus, LED flash and geo-tagging.
We also expect the iPad 3 to offer 1080P video capture too.
The secondary camera is a shoo-in for an upgrade too, and we expect to see the VGA offering of the iPad 2 removed and replaced with a 1.3-megapixel snapper capable of offering FaceTime in glorious 720P HD.
If the predictions are accurate users will be very pleased by the upgrades, as the iPhone 4S is one of the finest smartphones for photography on the market.
Winner - Draw
Display
The iPad 2's display is excellent, and we expect Apple to push the iPad 3 even further. According to sources we are looking at a display with the same dimensions but double the resolution of the iPad 2 at 2048 x 1536.
The device is also rumoured to have a pixel density well in advance of both its predecessor and Asus' Eee Pad Transformer Prime, with a rumoured 264PPI.
Asus' Eee Pad Transformer Prime isn't lacking on the screen front though. Its 10.1-inch Super IPS+ LCD display is far and away the best screen we've seen in an Android tablet and with a resolution of 1280 x 800 and a pixel density of 149PPI it's easy to see why.
Corning's Gorilla Glass offers a neat layer of protection on the Transformer Prime's screen and we expect to see a toughened coating over the face of the new iPad too, though whether it will be Corning's next-gen Gorilla Glass 2 is anyone's guess.
Winner - Apple iPad 3
Software
Tradition dictates that Apple will release a new iteration of its hugely popular iOS platform with the iPad 3.
Details of what to expect are thin on the ground at this stage but we're looking forward to seeing some significant bug-fixes, enhancements to offer better batter life, and improved multi-tasking, along with 3G & 4G support for FaceTime and improved security functionality to rival Google's Face Unlock.
Beneath the improvements, iOS will still be the same usable piece of software that everyone has grown to love with hundreds of thousands of apps and a super-intuitive UI.
The Transformer Prime has just been updated to Android 4.0, and the benefits of thisupgrade are multiple – we'll be detailing them in a separate review.
Features such as an improved notifications system, new UI and overhauled core applications, like Gmail and Google Maps, add to the devices charm and the 400,000+ apps available in the Android Market do nothing to harm the device's reputation either.
Still though, Google's tabet platform is still grossly underprepared for real battle in the tablet markets. But at least Android 4.0 is a step in the right direction.
Winner - iPad 3