Apple iPad Forum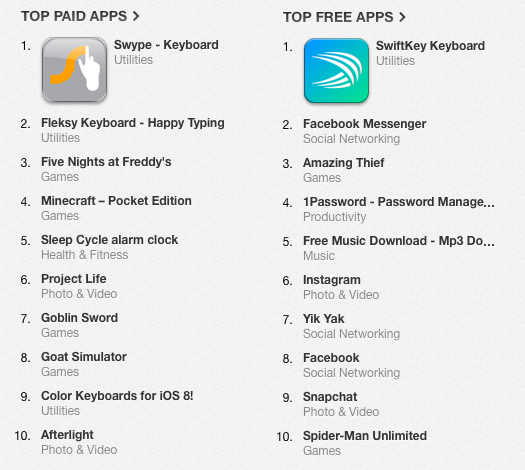 ​
Yesterday, Apple has officially launched iOS 8, and among the new features that it brings is the ability to install third-party keyboards that work on a system wide basis. This feature has been announced before, so most of the major keyboard makers were prepared for the launch, getting ready iOS 8 versions of their keyboards into the iOS App Store.
Now, just one day after launch, three of these keyboards, including Fleksy, SwiftKey and Swype, are now some of the most downloaded paid and free iOS app in the U.S. and other countries. Paid keyboards Swype and Fleksy managed to climb to the top two spots in the U.S. paid iOS app chart.
Popular games such as Minecraft Pocket Edition and Five Nights at Freddy's have lost the top position to third-party keyboard apps. Swiftkey jumped to the number one spot in the free chart, ruling the now freemium and very popular 1Password password manager and the recently launched Amazing Thief game. Even the Facebook Messenger app could not resist to the millions of users looking to get the app on their iDevices.
These three keyboards and more are available to all iPhone, iPad and iPod touch owners running iOS 8. SwiftKey is available for free from the iOS App Store, while Fleksy costs $1.99 and Swype is 99 cents. Follow the links from below to download them from the iTunes Store.
Source:
SwiftKey on iTunes
Source:...
​
Apple brought many nice improvements with iOS 8, but also improved its other services, like the App Store which has received a number of upgrades. Some of the biggest new features are support for video previews and support for app bundles. Thus, along with yesterday's release, several app bundles appeared in Apple's online store. Here are some to check out:
Runtastic Cardio Pack
Runtastic is a popular name in the world of fitness apps, so if you're in the market, this bundle deserves a look. It includes 5 apps: Runtastic Pro GPS, Runtastic Road Bike PRO GPS, Runtastic Heart Rate Monitor & Pulse Tracker PRO, Runtastic Pedometer Step Counter & Walking Tracker PRO, and Runtastic Altimeter PRO—each of which specializes in tracking a specific activity.
Standalone app price is
$15.95
Bundle price is
$7.99
Pixite Photo Kit
Pixite is the maker of several photo editing applications, may of which have been featured by Apple. This bundle includes 5 apps: Union, Matter, Fragment, Tangent and LoryStripes, and they each bring their own set of editing tools and special effects to the table.
Standalone app price is
$9.95
Bundle price is
$7.99
Ultimate Productivity Bundle by Readdle
Readdle is a highly regarded developer of mobile productivity tools, and it's including 4 of its top apps is this bundle: PDF Expert 5, Printer Pro, Scanner Pro, and Calendars 5. This group of apps will have you printing, scanning, and organizing like a pro.
Standalone app price is
$26.96
Bundle price is
$19.99
...
​
Siri, Apple's voice assistant, has gotten smarter with iOS 8 and it can now identify songs played on any device. Thus, Apple device owners who've upgraded to iOS 8 can now ask Siri the name for songs played on the radio or anywhere else.
This isn't exactly a novel feature, as Siri has long been able to identify a song being played on the same device. However, with the official release of iOS 8, Siri's musical abilities have been improved. Now, you can play a song on a different device, on the radio, on a CD, or on some other source, and it will be able to name that tune for you.
Once you get iOS 8, you will just need to ask Siri the question: "What song is this?" when the song is playing. Siri will respond by saying: "Let me listen." and depending on how far along you are in the track, it will probably take at least a few seconds to recognize it. After that, it will respond by saying something like "I can name that tune."
Yes, this sounds exactly like Shazam and that's because Apple has teamed up with Shazam to integrate the app's capabilities directly into Siri. Here's what Shazam said on a new support page:
"With the release of iOS 8, the magic and convenience of Shazam is now fully integrated into Siri. To know the details of the music/media around you, open Siri, and ask a question..."
Lance Whitney from Cnet has tested this feature, and here's what he said:
With this new music recognition feature, Siri is trying to keep up with the competition, as Google Now and Windows Phone's Cortana voice assistant offer their own music ID talents.
Source: Cnet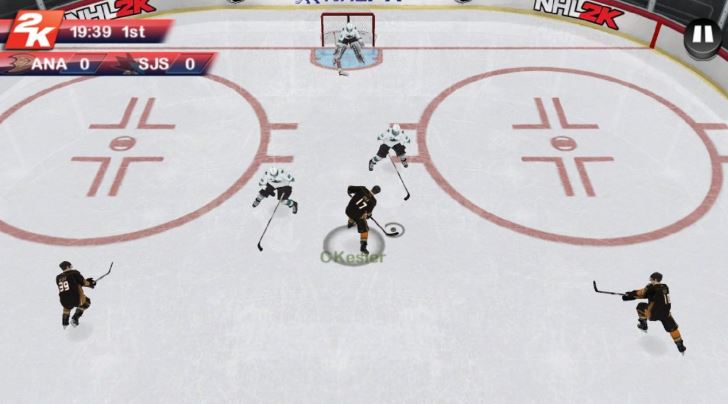 ​
Polygon reports today that 2K Sports is bringing NHL 2K back to mobile devices, four years on from when the game was retired.
The hockey game will arrive on mobile devices some time this fall, and will cost $7.99.
Polygon says that the new NHL 2K game will include support for the MFi gamepad, which is an iOS-exclusive controller with similar controls to that of a twin-analog-stick console gamepad.
2K Sports's other mobile sports franchises include NBA and WWE, both of which are doing very well, which doubtless influenced the company wanting to bring another of its legendary sporting franchises back to iOS.
Source:
Polygon
​
The world of cyber-security just got better for iOS 8 users. Agile Bits, the creators of the popular 1Password app and service just made their remarkable software FREE to new users on iOS. On top of that, previous users of the v4 of the software get a free upgrade to the Pro version.
For those unfamiliar with the software, 1Password basically lets you securely store your important data and passwords, and can automatically log you into websites with a single button. With 1Password, you no longer need to remember your username, password, or even the website address.
The new pricing model is not all though. This newest version also includes some added functionality with iOS 8, including the ability to work with Apple's Touch ID fingerprint sensor! Awesome!
Here's a quick breakdown of the rest of the cool new 1Password features for iOS 8:
​
These days, more and more Internet users are getting concerned with their privacy and how their intimacy is being protected. Apple is also well aware of that and that's why it has recently changed its privacy measures, announcing new changes that will please consumers.
Tim Cook has revealed that neither Apple nor the government can see any of your personal information if you have a passcode enabled on devices running the new OS. Here's what Apple's boss said:
"Our business model is very straightforward: We sell great products. We don't build a profile based on your e-mail content or web browsing habits to sell to advertisers. We don't 'monetize' the information you store on your iPhone or in iCloud. And we don't read your e-mail or your messages to get information to market to you. Our software and services are designed to make our devices better. Plain and simple."
Apple's new privacy page details how it protects your data from prying eyes, so if you're using a device running iOS 8 and have a passcode activated, Apple and the government can't see any of the data behind the passcode. Even if the police would require Apple to do that, the company just won't be able to do it. Cook also added the following:
"We have never worked with any government agency from any country to create a backdoor in any of our products or services. We have also never allowed access to our servers. And we never will."
He also mentioned how much Apple is committed to protecting users' privacy:
"Our commitment to protecting your privacy comes from a deep respect for our customers. We know that your trust doesn't come easy. That's why we have and always will work as hard as we can to earn and keep it."
You can follow the link from below to read the whole open letter on Apple's website.
Source:
Apple
​
Steve Jobs is widely believe to be one of the biggest innovators of all time, but few now that he was actually an art major in college. Thus, despite working with figure and facts, as several interviews have revealed, he was actually a very creative person. And this is apparently something that he wanted to pass on to his kids.
In a previous interview, Steve Jobs responded to tech reporter Nick Bilton's question about whether his children love the iPad 2. The late Apple CEO replied the following
"They haven't used it. We limit how much technology our kids use at home."
Apparently, Steve Jobs wanted his three children to develop a love for creative expression, and that's why he and his wife have set limits to technology use. Chriss Street from BreitBart.com explains quite nicely why Jobs and others have decided to take this approach in their education:
What's your take on this? Do you think we should limit how kids interact with technology and if so, should we be strict about it or just make sure they don't exaggerate in their use?
Source:...
​
September has been the month when Apple has announced its much-awaited iPhone 6 and the bigger iPhone 6 Plus. And now it seems that October will be the month when the company will announce the new line of its next iPad tablets. According to multiple publications, the company's next major product unveiling is expected to take place around mid-to-late October.
Here's what AppleInsider has recently said:
Michah Singleton from Daily Dot says that October 21 will be the exact day when the new iPads are going to be released. Here's what he said:
Apple held an event on October 22 last year where it announced the iPad Air, second generation iPad mini, and released OS X Mavericks. Along with the new iPads, the next version Apple's Mac operating system is also expected to get unveiled.
Source: AppleInsider