Apple iPad Forum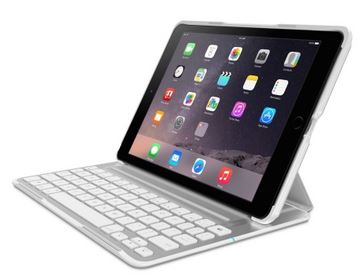 ​
Following on from Apple's announcing of the new iPad Air 2 and iPad Mini 3 last Thursday, Belkin has announced its new range of keyboards and covers for the tablets.
The new accessories include three QODE keyboards and several thin, lightweight folios for both iPads.
For the iPad Air 2, here are the key features of the top-of-the-range model of the QODE Ultimate Pr Keyboard, which costs $149.99 (there are also $129.99 and $99.99 versions of the same keyboard):
And for both the iPad mini 3 and the iPad Air 2, Belkin has updated folio covers, with prices ranging from $29.99 to $49.99, in a variety of colour combinations, including Blacktop/Gravel, Stone/Cyan, and Azalea/Fiesta.
Source: Belkin
​
AppleInsider reports that Apple has taken the step of removing all Bose products from the online Apple store.
You might recall that last week it was rumoured that Apple would be removing all Bose stock, including headphones and speakers, from its retail stores, and now the rumour has been proved to be correct, at least as far as the online store is concerned.
AppleInsider notes that while Bose products are no longer available to purchase in the online store, as of last Friday, when the products disappeared, it was still possible to pull up Bose products, such as Quiet Comfort headphones, in the search bar.
While Apple has not made any official announcement on the decision to ditch Bose, AppleInsider notes that it follows on from Apple's recent acquisition of Beats Electronics, with whom Bose had just settled a patent-infringement lawsuit relating to Bose's noise-cancelling technology.
Or, as AppleInsider says, it could also simply be sound business sense, with Apple wanting to promote its own Beats products in its stores rather than what is now a rival brand.
Source:
AppleInsider
​
Today's the day, and now is the time! The Apple iPad Air 2 and the Apple iPad mini 3 are now available for pre-order on Apple's website. In the graphic above you can see the full range of prices for the new super-tab(s) from Apple.
Here's a link to Apple's own comparison of the different iPads currently available from them:
https://www.apple.com/ipad/compare/
Here are several purchase links for various iPad products: (You can configure each one to your desired color and storage size before purchase.)
http://store.apple.com/us/ipad/compare
​
Here's a strange, yet intriguing story of a heroic cop who used the "Find My iPhone" app to rescue a stranded woman. Here's a quote with the details of the story,
It's pretty amazing what a little bit of knowledge and ingenuity can accomplish. In this age of constantly finding fault with police officers, it's good to see stories that remind us that most cops are the good guys. It's also cool to see the way technology was used to avoid a potential tragedy.
Source:
BGR
​
Pixelmator has appeared on stage at Apple's iPad event today and now it has published a blog post featuring a sneak peak at Pixelmator for iPad. The upcoming release is going to be a full-featured version of its popular photo editing app for Mac.
Pixelmator said that its iPad app will include a layer-based image editor with a true-to-life painting engine, color adjustments, retouching tools, effects, shapes, typography, selection tools, non-destructive layer styles, and even support for Photoshop documents. Here's what they said on the official blog post:
"This one is huge. And I mean it.
We are extremely excited to finally let you know that we've been working very hard at a non-stop pace for two years on something that is definitely one of the best apps for the iPad ever. Or, if you will, definitely the best image editing app for the iPad."
Full iCloud support with iCloud Drive and Handoff features will also make their way into the app. This means that saved and current documents can be available across devices at any time. Pixelmator for iPad is to be priced at $4.99 and will be available for download "very soon."
Source: Pixelmator
​
Just as it was expected, Apple has refreshed its Smart Cover and Smart Case line of accessories for the new iPad Air 2 and iPad mini 3. However, you should know that the iPad Air 2 is slightly thinner and also lighter, but the iPad mini 3 has the same physical dimensions.
The new Smart Covers are made of polyurethane and come in seven vibrant colors, while the Smart Cases have a leather construction and are available in five neutral colors. Apple's new Smart Covers and Smart Cases are designed to fit the 6.1mm form factor of the iPad Air 2. They come at a price of $39 and $79, respectively.
Yhe iPad mini 3's versions are available for $39 and $69. The iPad mini 3's leather Smart Case is just $10 cheaper than its Air 2 counterpart.
The new cases also come with "wake on open" and "sleep on close" features, along with keyboard and FaceTime stand positions. The leather Smart Cases features additional full-body protection, protecting the back of the device from dust and scratches.
You can buy the new Smart Covers and Smart Cases for iPad Air 2 and iPad mini 3 by following the link from below that will lead to Apple's iPad accessories page.
Source:
Apple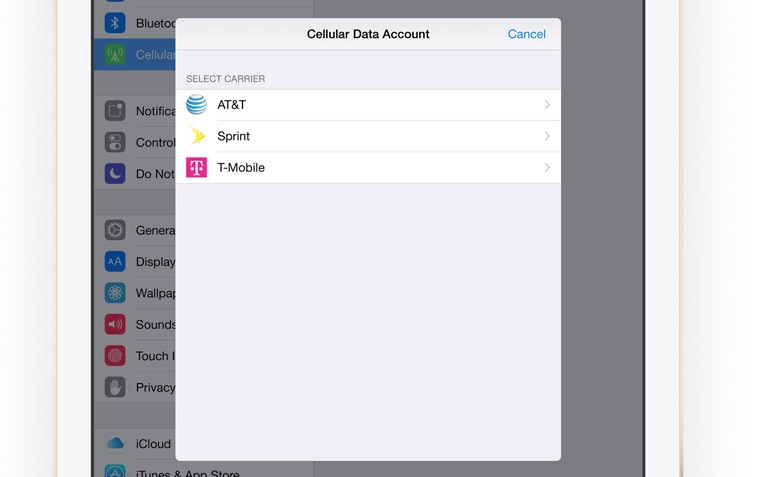 ​
During the launch of the new iPads, Apple didn't talk too much about a rather important new feature found inside the new iPad Air 2 and the iPad Mini 3. Apple is launching a new "Apple SIM" included with the iPad Air 2 and iPad Mini 3 devices purchased in the United States and United Kingdom.
The Apple SIM allows users to easily move among AT&T, T-Mobile, and Sprint by taking advantage of short-term data plans. In the UK, the Apple SIM will work for now only with EE carrier.
What this means is that UK customers traveling abroad to the United States or US residents traveling to the UK can avoid paying hefty data roaming charges and just choose to switch carriers. Here's how Apple describes the new feature on its website:
" One SIM. Many options. The new Apple SIM is preinstalled on iPad Air 2 with Wi-Fi + Cellular models. The Apple SIM gives you the flexibility to choose from a variety of short-term plans from select carriers in the U.S. and UK right on your iPad. So whenever you need it, you can choose the plan that works best for you — with no long-term commitments. And when you travel, you may also be able to choose a data plan from a local carrier for the duration of your trip."
If Apple will continue developing this service to more carriers and countrie, then it could pose a potential threat to telecom players. However, Apple is still pretty dependent on carriers to sell its products, so maybe that's why they have decided not to talk about the new feature on-stage.
Source: Apple
​
Apple Pay is one of the most exciting new products coming from Apple this year, allowing iPhone and iPad users to make online purchases straight from their devices. During its iPad and Mac event, Apple announced an official Oct. 20 launch date for Apple Pay.
CEO Tim Cook also revealed that up to 500 additional banks have signed up on the upcoming service since Apple first announced initial partners last month. Banks will start rolling out Apple Pay this year which will only be available for users in the US.
Apple Pay supports cards from American Express, MasterCard, and Visa through a number of issuing banks in the US including Citi, Bank of America, Capital One, Wells Fargo, Chase, American Express PNC, Navy Federal Credit Union, Barclays, USBank, and USAA.
Also, retail and app partners will support the payment feature, such as Disney, MLB, Nike, Starbucks, OpenTable, Target, Uber, and others. Eddy Cue, Apple's senior vice president of Internet Software and Services, said the following:
"Our team has worked incredibly hard to make Apple Pay private and secure, with the simplicity of a single touch of your finger. The reaction to Apple Pay has been amazing. We continue to add more Apple Pay ready banks, credit card companies and merchants, and think our users will love paying with Apple Pay."
For shopping in stores, Apple Pay will work with iPhone 6, iPhone 6 Plus and with Apple Watch, upon availability. For online shopping within apps, Apple Pay is available on iPhone 6, iPhone 6 Plus, iPad Air 2 and iPad mini 3.
Source: Apple