Apple iPad Forum
​
It looks like somebody has spilled the beans about Apple's internal affairs. In a recent interview with Dave Fanning on the Irish radio station 2FM, Bono, the frontman of the Dublin-based rock band U2, disclosed that Apple now has an impressive 885 million iTunes accounts. They're 'just' some 115 million more accounts away from reaching the mind-blowing 1 billion milestone.
Bono also shed more light on the rumored new music format designed to revitalize stagnant digital downloads and shared some discussions he had with late Steve Jobs related to the design of iTunes.
Back in April, Apple CEO Tim Cook said during the earnings conference that his company had 800 million iTunes accounts. If what Bono says is true, then Apple manages to add around more than half a million new iTunes accounts each day. Here's what the musician said about the standard digital music format:
"But to really break this open, why can't we see what we're looking at. Why can't we dip into artwork. like we used to? Why can't I use my phone or my iPad to disappear into a world created by artists with photography?
If we want to listen to Miles Davis in a silent way, why can't we have the photographs of Herman Leonard playing in the background while we do it? Or, with another click find out what mood he was in when he made that? Or with lyrics, why can't we read Bob Dylan's lyrics while we're listening to his music at a certain point in time?"
Bono said that even though the new format will take the music listening experience to the next level:
"It's a new format, and you can still get the Mp3 format, and you can rob it or whatever you want but you won't be getting the full experience. It'd be like you walking down the streets in Dublin in the 70s with a copy of the Rolling Stones album Sticky Fingers; just the vinyl, and not the Andy Warhol designed sleeve. You wouldn't feel like like you had the proper package."
What do you think about this impressive feat achieved by...
​
According to a recent report from the Taiwanese publication Commercial Times, Apple could delay the launch of the next-generation iPad mini tablet to next year, in the first quarter. This could mean trouble for Apple, as everybody is looking forward to the usual release schedule in the next month.
If these rumors turn out to be true, then Apple will miss the highly lucrative holiday season, which has proved to be fruitful in the past years. Most recent rumors and leaks have suggested that the next-generation iPad mini will be launched in the October this year, along with the new iPad Air.
Commercial Times is citing supply chain sources who say that it will be the first time since the past two years when the new iPad versions won't announced in the same time.
It's really interesting to note that the same report hints that Apple will unveil an iPad variant with 12.9-inch screen next year, dubbed by many the iPad Pro. Production is said to kickstart in the second quarter of 2015 and the tablet will be released shortly after.
The next-generation iPad mini is said to have the same screen size and resolution, the new A8 processor and an improved Touch ID fingerprint sensor.
Source: Commercial Times
​
Earlier this year, Apple acquired Beats Electronics for a whopping $3 billion. Along with all of Beats' headphone and speaker products, our favorite fruit company also received the Beats Music streaming service as part of the acquisition.
According to a new report from
TechCrunch
on Monday, it seems like Apple is looking to shut down the Beats Music service. The report cites sources close to the situation including "several prominent employees at Apple and Beats".
This is all news to us, but the report claims that Beats executive Ian Rogers was previously put in charge of iTunes Radio. This could mean that Apple is looking to integrate some of the features (and possibly streaming capabilities) into iTunes products. Apple recently added the Beats Music Apple TV channel, so it's strange that the company is looking to shutdown its newly acquired service all together.
​
iMore reports today that Halfbrick is set to give its seemingly eternally popular iOS game Fruit Ninja a substantial revamp in early October. The game has already generated more than 500 million downloads across all platforms since it was released in 2010, and it seems that Halfbrick is not content to rest on its laurels as far as the game is concerned, with Halfbrick promising fans a big makeover.
"The team has thrown away the tired menu and UI designs, ensuring the steps between playing, equipping new gear, and using social features are all streamlined," said Halfbrick.
Now, before you start each game, you'll be able to equip different Blades and Dojos, which were previously not usable and were only for show. Halfbrick says that the game's score ceiling has now been blown wide open, with pretty much every item in the game having an effect on gameplay, adding even more depth and strategy for all the expert fruit slicers out there.
One such example of these new enhancements is the Great Wave dojo, which will now randomly spawn 10 fruit simultaneously, and the Autumn Black, which stirs up a tornado of fruit each time you slice a pineapple. Sounds yummy!
Finally, to tie in with the revamp, Halfbrick has also launched a new Fruit Ninja dedicated YouTube channel, with the above video, which features two newcomers to Fruit Ninja Origins, Gutsu and Truffles.
Source:
iMore
​
Apple's latest software version for its iPhones and iPads comes with a lot of new useful features, but this doesn't mean everybody has to love it. So if you want to downgrade from iOS 8 to a previous version, here's how you can do so in five easy steps:
Step 1
: Download the iOS 7.1.2 firmware for your device
Step 2
: Turn off Find My iPhone on your device if you have it enabled. Then, go to Settings → iCloud, and disable the Find My iPhone switch.
Step 3
: Connect your device to a Mac with iTunes installed.
Step 4
: Open the device page on iTunes, and hold the Option key while clicking the Restore button. Find the IPSW firmware file that you downloaded in Step 1, select it, and click Open.

Step 5
: A pop-up box will warn you that the restore will delete all data from the device. If you are okay with the restore, click the Restore button. Wait until your device restores, and enjoy your iOS 7.1.2 firmware.
According to the iDownloadBlog publication, this will be valid for a limited amount of time, as at any point in the future, Apple will stop signing iOS 7.1.2, which means users won't be able to downgrade. Let us know below if you dislike iOS 8 and you want to go back and explain why.
Source: iDownloadBlog
​
At the big iPhone launch event, Apple also previewed and shared details related to its much-rumored smartwatch. However, not all details regarding its specs and features have been made public, as the device is said to be officially unveiled in the beginning of early 2015.
According to a new research note sent out to investors on Monday by Timothy Arcuri of Cowen and Company, the Apple Watch is said to feature 512MB of RAM and 4GB of storage. It seems that the 512 megabytes of mobile DRAM will likely be supplied by Samsung, Hynix and Micron.
Arcuri says that Apple may offer an 8-gigabyte version of the Watch in addition to the standard 4-gigabyte version. It's expected for the smaller-capacity option to be the default configuration. The analyst also noted that the memory will come from "most major NAND suppliers."
The Apple Watch is also expected to feature a wireless combination chip similar to the Broadcom BCM43342 found in the iPhone 5s which is also said to include a GPS radio. Will you be buying the Apple Watch if it comes with a price under $300?
Source: AppleInsider
​
Apple CEO Tim Cook is set to speak at The Wall Street's WSJDLive technology conference in October. We don't get too many chances to see Apple's boss 'in action', so this will be a good occasion to hear him speak about how is Apple doing and what's next for the always-growing multibillion dollar company.
Previously, Apple executives including Steve Jobs have appeared at past "D" conferences hosted by former WSJ employees Walt Mossberg and Kara Swisher. Since then, Mossberg and Swisher have left to form the Recode.net publication. They too have hosted Apple executives at their new "Code Conference" in May. And now, it seems that WSJDLive is a continuation of sorts of the previous "D" conferences.
Besides Tim Cook, at the WSJDLive tech conference from next month, former Google executive and VP of Xiaomi Hugo Barra, Jack Ma of Alibaba, and executives from Microsoft, Huawei, SoundCloud, Waze, Universal Music Group, and many others are expected to be present.
The WSJDLive conference will take place from October 27th through October 29th, which are the same days the next Code Conference. Right now, we know that the WSJDLive event is invitation-only, and it seems that the interviews won't be available to stream or watch during the event.
Source: 9to5Mac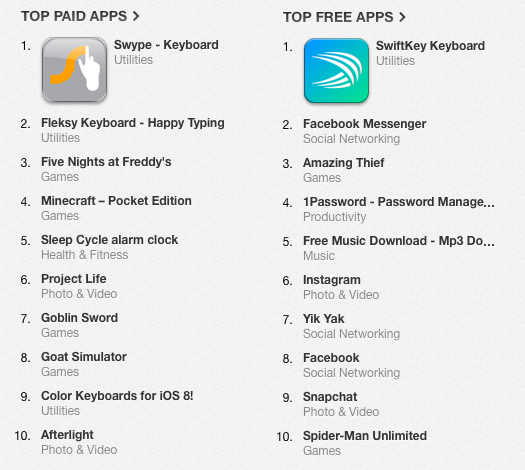 ​
Yesterday, Apple has officially launched iOS 8, and among the new features that it brings is the ability to install third-party keyboards that work on a system wide basis. This feature has been announced before, so most of the major keyboard makers were prepared for the launch, getting ready iOS 8 versions of their keyboards into the iOS App Store.
Now, just one day after launch, three of these keyboards, including Fleksy, SwiftKey and Swype, are now some of the most downloaded paid and free iOS app in the U.S. and other countries. Paid keyboards Swype and Fleksy managed to climb to the top two spots in the U.S. paid iOS app chart.
Popular games such as Minecraft Pocket Edition and Five Nights at Freddy's have lost the top position to third-party keyboard apps. Swiftkey jumped to the number one spot in the free chart, ruling the now freemium and very popular 1Password password manager and the recently launched Amazing Thief game. Even the Facebook Messenger app could not resist to the millions of users looking to get the app on their iDevices.
These three keyboards and more are available to all iPhone, iPad and iPod touch owners running iOS 8. SwiftKey is available for free from the iOS App Store, while Fleksy costs $1.99 and Swype is 99 cents. Follow the links from below to download them from the iTunes Store.
Source:
SwiftKey on iTunes
Source:...