Apple iPad Forum
​
Here's a story that might tug at your heart-strings a bit. It seems that Apple's Siri is helping some folks out in ways you wouldn't have imagined. While most of us use Siri to find the nearest restaurant, or give us updated flight information, or any other mundane, yet important tidbit of intel, one young autistic boy named Gus, counts Siri as his best friend and virtual "sidekick."
A New York Times author named Judith Newman recently wrote about her experiences watching her 13 year old autistic son converse for hours with Siri. She points out several different ways that Siri has added value to the young boy's life. One is that Siri will always be able to patiently converse with him regardless of how long he converses on the same subject. Sometimes Siri may not be able to give Gus a precise answer, but he even enjoys her responses when she can't answer all of his flood of questions.
The second way that Siri helps out Gus in an unconventional way is that Siri actually requires him to enunciate properly to be able to answer the question correctly. This serves as a pseudo-speech therapist, and Newman has noticed that after her son has spent time with Siri, she has longer and better conversations with her him than ever before.
That ties into the third unusual thing that Siri improves for Newman's son. Because Siri tries to tackle conversations in a polite manner and encourages that same type of politeness, it indirectly has helped Gus develop his social skills as well. This is another reason he is interacting with his mom and others better than before.
Here's an example given of just one of these interesting conversations that Newman's son had with Siri,
​
In a previous post, I was sharing with you how you can
set up Apple Pay on your iPad
, a big feature that has been made available with the latest iOS 8.1 software upgrade.
And now we're having a quick look at some other new features that are making their way in the latest update.
Apple iOS 8.1 includes bug fixes, functionality for several Continuity features, the iCloud Photo Library, Apple Pay and the return of the Camera Roll, along with other minor improvements.
Continuity
With the new
Continuity
feature, users can easily switch between their iPhone, iPad and Mac or use them together.
Handoff, Phone Calling, Instant Hotspot and SMS from any device
are the main features that Continuity brings. With 'SMS from any device' feature, you will be able to send and receive SMS/MMS text messages from your iPad or Mac.
Also, in the chat bubbles, Apple differentiates iMessages with blue backgrounds and standard SMS messages with green backgrounds. Instant Hotspot will allow your iPad or Mac to connect to the personal hotspot on your iPhone if it is in your proximity.
With the new
iCloud Photo Library
, users will be able to save pictures and videos to their iCloud account. iCloud Photo Library will be accessible through any iOS device or through the iCloud website.
Apple iOS 8.1 will include bug fixes and the return of the Camera Roll, as well.
Source: Apple
​
Apple's much-awaited payment system Apple Pay is rolling out from today, and if you want to get it on your iPad as soon as possible, here are the steps you need to take.
Make sure that you have the iPad Air 2 or iPad Mini 3, as these are the iPad versions that will currently work with the system. Also, be aware that the iPads announced last week can only use the service for web purchases and not for payments at physical retail stores.
That's because the iPhones have a built-in Near Field Communication antenna and the iPads don't. At least, not for now.
Next, you need to update your operating system to version iOS 8.1, which is also going to be released starting from today. Now, you need to open the Passbook app. You will then be asked if you want to use your credit or debit card already on file for iTunes purchases or add a new card.
If you choose not to use your iTunes account, Apple Pay currently works with Visa, Mastercard, and American Express. When you ask Passbook to load a new card into Apple Pay, it will activate your camera and prompts you to snap a photo of your card.
Apple will then analyze this image and interact with your bank to confirm that it indeed belongs to you. It's also important to note that Apple doesn't even actually store your credit card number, nor does it give the number to merchants.
Source: Apple
​
If you plan on getting a new iPad, this means you'll probably want to sell the older on. But before you do that, you need to make sure that all of your data is off the tablet and none of it is left behind before giving your tablet away. Nobody wants to see his private data getting in the wrong hands.
Before putting your iPad on sale or donating it to someone, you need to make sure that your data is off the device and that it has been restored to factory settings.
The first and easiest solution would be to make use of
Apple's automatic iCloud backup
. However, if the total of your iPad's photos, videos, documents, and settings exceed the 5 GB of space you get for free, then you'll have to pay more to get a better storage plan or exclude some items.
Backing up your iPad with iTunes is slower, but safer. You need to update iTunes to the latest version, then plug in your iPad or iPhone, select it from the left-hand column in iTunes, click the "Encrypt backups" checkbox and then click "Back Up Now." Here are some more details of how this can be done, via USAToday: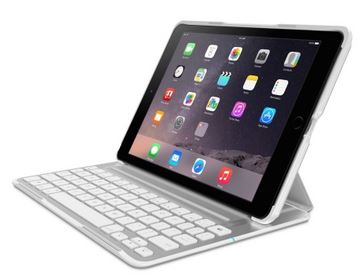 ​
Following on from Apple's announcing of the new iPad Air 2 and iPad Mini 3 last Thursday, Belkin has announced its new range of keyboards and covers for the tablets.
The new accessories include three QODE keyboards and several thin, lightweight folios for both iPads.
For the iPad Air 2, here are the key features of the top-of-the-range model of the QODE Ultimate Pr Keyboard, which costs $149.99 (there are also $129.99 and $99.99 versions of the same keyboard):
And for both the iPad mini 3 and the iPad Air 2, Belkin has updated folio covers, with prices ranging from $29.99 to $49.99, in a variety of colour combinations, including Blacktop/Gravel, Stone/Cyan, and Azalea/Fiesta.
Source: Belkin
​
AppleInsider reports that Apple has taken the step of removing all Bose products from the online Apple store.
You might recall that last week it was rumoured that Apple would be removing all Bose stock, including headphones and speakers, from its retail stores, and now the rumour has been proved to be correct, at least as far as the online store is concerned.
AppleInsider notes that while Bose products are no longer available to purchase in the online store, as of last Friday, when the products disappeared, it was still possible to pull up Bose products, such as Quiet Comfort headphones, in the search bar.
While Apple has not made any official announcement on the decision to ditch Bose, AppleInsider notes that it follows on from Apple's recent acquisition of Beats Electronics, with whom Bose had just settled a patent-infringement lawsuit relating to Bose's noise-cancelling technology.
Or, as AppleInsider says, it could also simply be sound business sense, with Apple wanting to promote its own Beats products in its stores rather than what is now a rival brand.
Source:
AppleInsider
​
Today's the day, and now is the time! The Apple iPad Air 2 and the Apple iPad mini 3 are now available for pre-order on Apple's website. In the graphic above you can see the full range of prices for the new super-tab(s) from Apple.
Here's a link to Apple's own comparison of the different iPads currently available from them:
https://www.apple.com/ipad/compare/
Here are several purchase links for various iPad products: (You can configure each one to your desired color and storage size before purchase.)
http://store.apple.com/us/ipad/compare
​
Here's a strange, yet intriguing story of a heroic cop who used the "Find My iPhone" app to rescue a stranded woman. Here's a quote with the details of the story,
It's pretty amazing what a little bit of knowledge and ingenuity can accomplish. In this age of constantly finding fault with police officers, it's good to see stories that remind us that most cops are the good guys. It's also cool to see the way technology was used to avoid a potential tragedy.
Source:
BGR
Search tags for this page
cheap ipad mini 4g 16gb black wi-fi with retina display
,
ipad forum
,
ipad forums